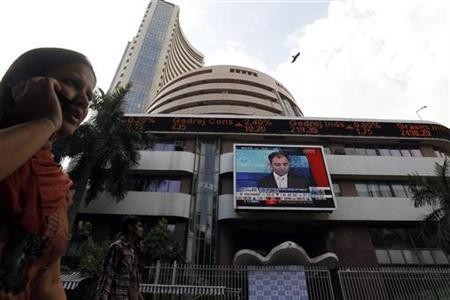 India's Sensex is expected to rise on Wednesday as investor sentiment is likely to be lifted with October's rise in machinery orders in Japan, indicating that the world's third largest economy is showing signs of economic revival.
According to data released by the Cabinet Office on Wednesday, Japan's core machinery orders, which measures the change in the total value of new orders placed with machine manufacturers, excluding ships and utilities, rose to 2.6 percent in October up from 4.3 percent fall in September.
On Wednesday, Japan's Nikkei Stock Average was up 0.47 percent, or 44.41 points, to 9569.73. Among major gainers were Nikon Corp (3.41 percent), Konami Corp (3.34 percent) and Panasonic Corp (3.13 percent).
Hong Kong's Hang Seng rose 0.58 percent, or 130.08 points, to 22454.02. Among major gainers were AIA Group Ltd (2.84 percent) and Hang Lung Properties Ltd (1.55 percent).
South Korea's Kospi Composite Index advanced 0.34 percent, or 6.77 points, to 1971.39. Shares of Samsung Electronics Co Ltd rose 0.88 percent and shares of LG Electronics Inc were down 1.32 percent.
On Tuesday, the U.S. stocks rose as investor confidence was lifted by hopes that the Federal Reserve will announce stimulus measures to boost the economy. Meanwhile, according to data released Tuesday by the Bureau of Economic Analysis's trade deficit, which measures the difference in value between imported and exported goods and services over the reported period, rose to $42.3 billion in October from $41.6 billion in September. The Dow Jones Industrial Average rose 0.60 percent, the S&P 500 Index was up 0.65 percent and the Nasdaq Composite Index gained 1.18 percent.
European markets rose on Tuesday as investor sentiment was buoyed by improving economic sentiment in Germany. The German Zentrum für Europäische Wirtschaftsforschung (ZEW) Economic Sentiment Index, which gauges the economic outlook, rose to 6.9 in December up from 15.7 decrease in November. London's FTSE 100 was up 3.34 points, Germany's DAX 30 index rose 58.83 points and France's CAC 40 gained 34.05 points.
On Tuesday, Sensex marginally fell 0.12 percent to 19,387.14 at the close. The overall market breadth was negative with 1154 advances against 1766 declines. The BSE's Midcap Index declined 1.15 percent to 7034.90 and Smallcap Index fell 0.91 percent to 7402.10.