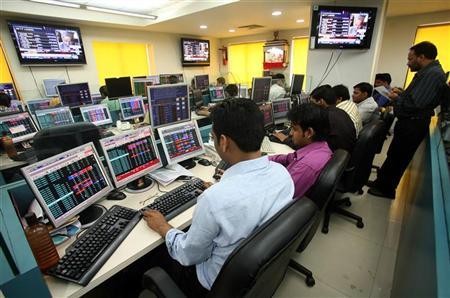 India's Sensex is expected to remain listless on Friday as worries of the fiscal cliff in the US is likely to undermine the report of expansion of China's manufacturing activity in December.
The preliminary reading of the HSBC Purchasing Managers' Index (PMI), a measure of the nationwide manufacturing activity, rose to 50.9 in December compared to 50.5 in November. Significantly, the index remained in the expansion zone, a reading above 50. The expansion of the manufacturing activity should allay fears about a sharp retardation of the Chinese economy.
On Friday, Japan's Nikkei Stock Average was down 0.22 percent, or 21.73 points, to 9721. Among major losers were Olympus Corp (2.99 percent), Hitachi Ltd (1.87 percent) and Terumo Corp (1.85 percent).
Hong Kong's Hang Seng rose 0.44 percent, or 97.65 points, to 22543.23. Among major gainers were Sino Land Co Ltd (1 percent) and PetroChina Co Ltd (0.93 percent).
South Korea's Kospi Composite Index fell 0.57 percent, or 11.50 points, to 1991.27. Shares of Samsung Electronics Co Ltd dropped 1.11 percent and shares of LG Electronics Inc were down 2.44 percent.
On Thursday, the US stocks fell as investor sentiment turned negative following uncertainty over the progress made by the Congress leaders in reaching an agreement to avert the looming fiscal cliff and prevent the scheduled rise in tax rates and spending cuts from plunging the economy into recession early next year.
Meanwhile, according to the data released on Thursday by the Department of Labor, the weekly jobless claims report, which measures the number of individuals who filed for unemployment insurance for the first time, rose to 343,000 in the week ending Dec 8, down from 372,000 in the previous week. The Dow Jones Industrial Average fell 0.56 percent, the S&P 500 Index was down 0.63 percent and the Nasdaq Composite Index declined 0.72 percent.
European markets fell on Thursday amid concerns of debt crisis affecting the euro zone. European finance ministers reached an agreement to have a new supervisory mechanism for the euro zone banks which could mark an important step towards banking and eventually fiscal union. London's FTSE 100 was down 16.24 points, Germany's DAX 30 index fell 32.81 points and France's CAC 40 dropped 3.53 points.
On Thursday, the Sensex fell 0.65 percent to 19229.26 at the close. The overall market breadth was negative with 1436 advances against 1486 declines. The BSE's Midcap Index declined 1.16 percent to 6957.53 and Smallcap Index fell 0.97 percent to 7348.17.