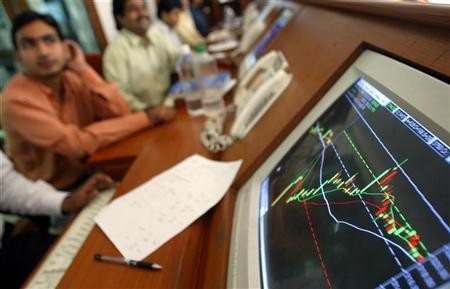 India's Sensex is expected to recover on Monday after plunging in the last three sessions. Markets had declined three out of last five sessions and recorded first weekly loss in last five weeks.
BSE Sensex had declined more than 2.8 percent and the 50-share NSE Nifty lost more than 3 percent in the last three sessions as financial shares tumbled following the Reserve bank of India's (RBI) tightening measures in the banking system.
Meanwhile, Asian markets declined on Monday as investor opted for caution before Bank of Japan Governor's speech and monetary policy reviews from the US and Europe later this week.
Japan's benchmark Nikkei 225 plunged 2.26 percent and China's Shanghai Composite declined 1.24 percent, while Hong Kong's Hang Seng fell 0.43 percent and South Korea's KOSPI slipped 0.40 percent.
"It's a big week with earnings reports, central bank meetings, and of course U.S. payrolls. Investors will be paying a lot of attention to these and studying the implications for Fed tapering arguments. Where markets go from here depends a lot on the data and the Fed," Nader Naeimi, Sydney-based head of dynamic asset allocation at AMP Capital Investors Ltd, told Bloomberg.
US stock markets erased earlier losses and ended on a positive note Friday as sentiment was buoyed following a better-than-expected consumer sentiment index and quarterly earnings from Starbucks. Starbucks surged more than 7 percent after the company reported better-than-expected third quarter earnings and raised its profit forecast for 2013.
The Dow Jones Industrial Average rose 0.02 percent, the S&P 500 Index was up 0.08 percent and the Nasdaq Composite Index gained 0.22 percent.
Meanwhile, a consumer sentiment report from Thomson Reuters/University of Michigan on Friday showed that confidence unexpectedly rose to 85.1 in July from June's 84.1 level, topping economists' expectations of 84.