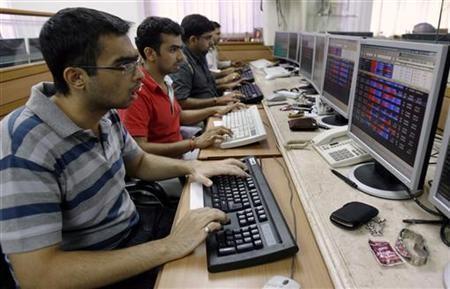 India's Sensex is expected to rise as investor sentiment is likely to turn positive on a day when the upper house of the Parliament will vote on the government's decision to allow foreign direct investment in multi-brand retail.
Investors are focusing on the crucial vote in the Rajya Sabha on whether to allow 51 percent foreign investment in the retail sector. The ruling coalition is hoping to get the majority with the Bahujan Samaj Party leader Mayawati saying on Thursday that her party will support the government on FDI vote.
On Friday, Japan's Nikkei Stock Average was up 0.16 percent, or 17.55 points, to 9560.39. Among major gainers were NTN Corp (12.12 percent), Sharp Corp (9.94 percent) and Pioneer Corp (4.19 percent).
Hong Kong's Hang Seng rose 0.50 percent, or 105.09 points, to 22359.97. Among major gainers were Li & Fung Ltd (1.89 percent) and Esprit Holdings Ltd (0.84 percent).
South Korea's Kospi Composite Index advanced 0.46 percent, or 9.01 points, to 198.63. Shares of Samsung Electronics Co Ltd rose 1.99 percent and shares of Hyundai Motor Co fell 1.96 percent.
On Thursday, the U.S. stocks rose as market confidence was lifted amid hope that Congress will soon reach an agreement to avert the fiscal cliff and prevent the scheduled rise in tax rates and spending cuts from plunging the economy into recession early next year. Meanwhile, according to data released on Thursday by the U.S. Labor Dept, the weekly jobless claims report, which measures the number of individuals who filed for unemployment insurance for the first time, rose to 370,000 in the week ending Dec 1, down from 395,000 in the previous week. The Dow Jones Industrial Average rose 0.30 percent, the S&P 500 Index was up 0.33 percent and the Nasdaq Composite Index gained 0.52 percent.
European markets rose on Thursday tracking upbeat overnight cues from the U.S. London's FTSE 100 was up 9.34 points, Germany's DAX 30 index rose 79.99 points and France's CAC 40 gained 11.15 points.
On Thursday, Sensex rose 0.49 percent to 19,486.80 at the close. The overall market breadth was positive with 1601 advances against 1297 declines. The BSE's Midcap Index gained 0.73 percent to 7,075.92 and Smallcap Index advanced 0.46 percent to 7,453.77.