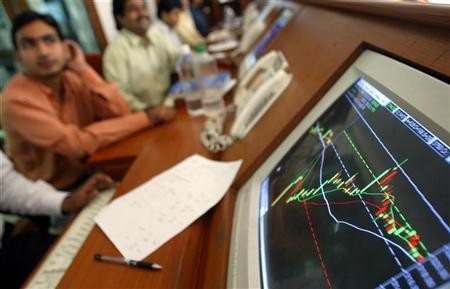 India's Sensex is expected to decline on Wednesday after touching the highest level in more than two years in the previous session.
Banking shares are expected to decline today as the Reserve Bank of India (RBI) on Tuesday cut the daily funds available from it to individual bankers under the liquidity adjustment facility to 0.5 percent and raised the daily balance requirement for the cash reserve ratio.
"Banking stocks will be battered and that will pull the indexes down. We expect a volatile trading day given the monthly derivatives expiry tomorrow," Kishor Ostwal, managing director at CNI Research Ltd., told Bloomberg.
Sentiment is also likely to weigh down by mixed cues from Asian peers and Wall Street overnight. On Tuesday, US stock markets ended on a mixed note on uncertainty about the Federal Reserve's bond buying program.
The Dow Jones Industrial Average rose 0.14 percent, the S&P 500 Index was down 0.19 percent and the Nasdaq Composite Index declined 0.59 percent.
Asian stock markets were mostly falling on Wednesday, led by declines from utility and health care sector shares. Hong Kong's Hang Seng declined 0.48 percent and China's Shanghai Composite plunged 1.09 percent while South Korea's KOSPI advanced 0.15 percent and Japan's benchmark Nikkei 225 fell 0.58 percent.
Meanwhile, a private sector report showed that Chinese factory activity slowed further in July. The HSBC Flash Purchasing Managers Index (PMI), a measure of the nation-wide manufacturing, declined to 47.7 in July, its lowest level in 11 months, from 48.2 in June. Any reading below the 50 level indicates signifying contracting economic activity.