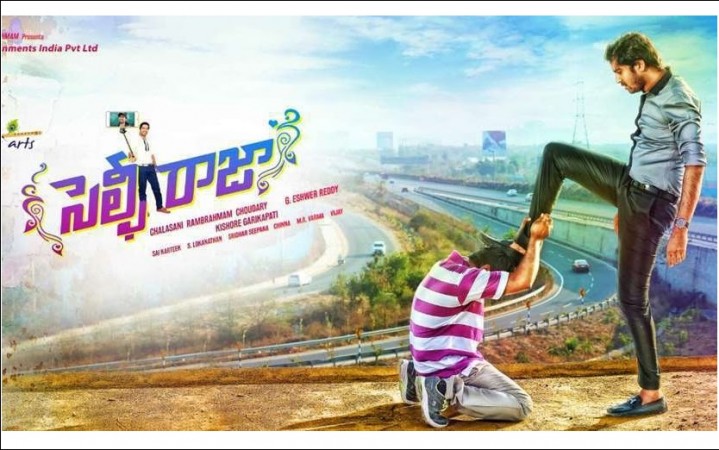 Comedy king Allari Naresh's much awaited Telugu film "Selfie Raja," which was released in theatres around the word on July 15, has failed to impress the critics, who are upset with director G Eshwer Reddy's work.
"Selfie Raja" is about a happy-go-lucky guy, who has two weaknesses like crazyness for selfies and talking loose. He marries a police commissioner's (Nagineedu) daughter (Kamna Ranaut). A criminal, who wants to take revenge against his father-in-law, creates problems in his marital life. What happens next forms the crux of the story.
The critics say Director G Eshwer Reddy has touched upon an interesting subject, which is inspired by a trend among the present generation. He keeps engaged the audience with some spoofs and comedy scenes in the first half. But Post interval, the story goes haywire with some meaningless scenes. The second half is boring and forces viewers to walk out of theatres.
As Selfie Raja, Allari Naresh has delivered a good performance and his comedy timing is the highlight of the film. Kamna Ranaut, Shakalaka Shankar, Ravi Babu and others have done good job and their performances are assets. The movie has decent production values and music and witty dialogues are attractions on the technical front, say the critics.
We bring you some critics' verdict and ratings for the movie. Continue to see them in Selfie Raja review roundup:
Selfie Raja is a desperation to fill every scene and dialogue with gags.Extra Zabardasth Grand Masti Selfie Raja No complaints there but actors like Allari Naresh are loved by children and even with a U/A certification, it gets a tad uncomfortable to watch the movie.
Here's a film that might sound interesting at the outset. Because the director cashes in on the selfie craze the world has been engulfed with and weaves a story around it. And executes it in such a shoddy way that you want to stop and wonder why Naresh is hurrying and doing films like these.
Selfie Raja is just an average comedy caper. The film is filled with gags which click at times and also irritate you to an extent. Allari Naresh's sincere performance and some spoofs make the proceedings lively. Rest of the film is out of place and does not have much flow. All those who are hellbent on watching this film after watching its interesting teasers, they can give it a shot but go in well prepared.
'Selfie Raja' could have been a better product with proper screenplay and narration. Now we have got a half baked product. The movie is filled with some hilarious comedies at times and some times they are more annoying. Editing is also pathetic and the narration is non-linear. All we can say is, if you are excited after watching the teasers, you will be disappointed. In case, if you don't have any expectations, this movie might be worth one time watch.
Despite no proper script, 'SelfieRaja' offers some laughs in the first half, but the movie meanders into a mess post interval. Except for few scattered laughs and spoofs, the second half is bore.
Some spoofs have worked till the interval. But whatever little storyline that the director has on his hands is finished by interval itself. So there is no story to look forward to in the second half but and the director's screenplay is horrible post interval that we constantly look for exit door.