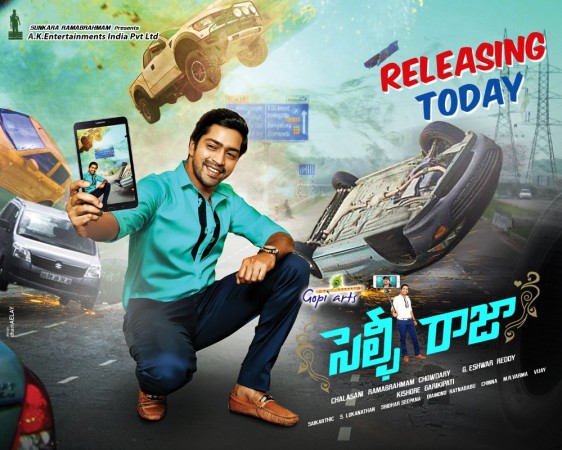 Director G Eshwar Reddy's Telugu movie "Selfie Raja," starring Allari Naresh, Sakshi Chaudhary and Kamna Ranawat, has received mixed reviews from the audience around the world.
"Selfie Raja" is a romantic comedy entertainer movie. Written by G Eshwar Reddy, the movie revolves around the story of a hilarious character named Raja (Allari Naresh), who is crazy about selfies. His craze for selfies lands him in several troubles. How he manages to escape from them forms the crux of the story.
The audience say "Selfie Raja" has an interesting story, which explores the latest trend of selfies that has been proved to be dangerous. Director G Eshwar Reddy has written an engaging screenplay and some comedy and romantic sequences keep the film goers entertained right from the beginning till the end.
Allari Naresh has delivered a brilliant performance and his comic timing is the highlight of "Selfie Raja." Sakshi Chaudhary and Kamna Ranawat have limited screen space, but impress the viewers with their glamour. Balli Reddy, Prudhviraj, Thagubothu Ramesh and Ravi Babu's performances are the other assets of the movie.
Anil Sunkara and Rambrahmam Choudary have bankrolled "Selfie Raja" under the banner AK Entertainments and they have made sure the film has wonderful production values. Sai Karthik's music, picturisation, comedy scenes and funny one-liners are the attractions on the technical front.
We bring to you some viewers' verdict shared on Twitter. Here is the live update of the "Selfie Raja" movie review by audience:
Jalapathy Gudelli ‏@JalapathyG
Allari Naresh starrer #SelfieRaja: Offers some laughs (spoofs are funny) in the first half, but completely misses the track post interval.
Sikander ‏@sikender_nag
#SelfieRaja - Boring Spoof Fest.. Though it offers some laugh in 1st half post interval it completely misses out...
Nitin Chakravarthy ‏@Nitinreddy1111
Watching #SelfieRaja .. Intermission now.. Strictly Average so far.. Boring Narration.. Hoping for a better 2nd half !!
Chenna ‏@chenna_prince
Okay First Half #SelfieRaja #Entertaining Okay First Half Boring Second Half & Good Climax #SelfieRaja #BelowAverage Prithvi raj rocks & again allarinaresh
Abhiram Mahankali ‏@abhi_ram
#SelfieRaja First half is all about comedians with no much main story moving forward.
Sharath Chandra ‏@sirimasc
Watching #SelfieRaja in Sandhya. The interval bang is much commercially visualised . Not a routine comedy of @allarinaresh, something diff.. @allarinaresh @AnilSunkara1 #SelfieRaja apart frm Spoofs there is nothing much to think of. Some silly Jokes on Snakes are unbearable.
Raj ‏@AlwaysRAAZ
Sapthagiri - Sudarshan Reddy comedy track is hilarious #SelfieRaja Passable 1st half with some rib tickling comedy and Boring 2nd Half #SelfieRaja
Sravan voruganti ‏@sravanvorugant1
#SelfieRaja First half is all about comedians with no much main story moving forward. #SelfieRaja for hilarious spoof comedy and witty dialogues
Surendra K Naidu ‏@Surendraknaidu
#SelfieRaja First half is all about comedians with no much main story moving forward.
Sriram Karanam ‏@ramsjoyy
First half Bokka #SelfieRaja Undandi Ganta lo malli isthaa Second half kuda bokke... Ededo try chesi rotta rotta chesesaru...okati rendu comedy scenes thappa..goram bhayya #SelfieRaja
Prashanth Reddy ‏@BhoomiReddy_
Movie started with Sharwanand Voiceover & vizag beach. Sapthagiri, Sudharshan Reddy comedy #SelfieRaja Done with 1st half.. Entertainment good Story pedha ga emi ledu, Naresh dual role anedi interval Twist #SelfieRaja 2nd endi ra Ila vundi anukuna time lo Pokiri lo MB entrance la allari Naresh entrance ichadu #SelfieRaja
Rusthum ! ‏@DathuRulz
Non sync scene lu.. Akkarleni spoof latho worst ga Undi 1st half.. 2nd half Lo Edo Undi ani intermission card Lo esadu.. #SelfieRaja
Betraai saami Devuda ‏@kalyannn_
Prathi Audio Function Lo.. PowerStar Powerstar Ani Arichinattu.. Meerantha Ma inti Mundu ki vachi arustunaru enti #SelfieRaja dlg
aHf ‏@adhyayam
'Departmentlo Gabbar Singh antaaru Apartmentlo Babbar Sher antaaru...' #SelfieRaja
Sundeep ‏@sunny438
Spoof raja #SelfieRaja Ok first half.. Akadakada konni scenes navvu teppinchai #SelfieRaja No logics. Just comedy.. Time pass bomma. Akdakada chiraku tepichina oka sari chuseyochu #SelfieRaja
Vamsidhar Reddy ‏@balayyafan_nlr
#selfieraja -1st half time pass
Sampath ‏@SAMPATHB24
Jabardasth comedy in 2nd half. Overall good movie. Spoofs. #SelfieRaja
Balu Mahendra ‏@balumahendra_v
Ravi Babu role in film #SelfieRaja is very bad....Dual Role ,Weak Story,Boring till End....
Akhilimz ‏@akhilimz
#SelfieRaja - Boring Spoof Fest.. Audience ki SNOOZE Fest.... #SurviReviews
Suresh ‏@Suresh4maheshh
Good 1st half... worst 2nd half..... Another flop for Allari Naresh.... #SelfieRaja