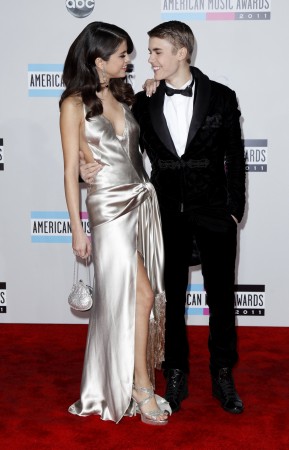 Good news for Justin Bieber and Selena Gomez fans! There is still a chance the two may reunite.
An insider told Hollywoodlife.com that despite all that the couple has been through, Gomez is still considering taking Bieber back. However, there is a catch. "The heart wants what it wants" singer has hinted that she will get back with Bieber only if he is willing for some commitment like say a promise ring.
Gomez has publically confessed that she will "always love" and want all good things to happen to him. So, the news doesn't come as a surprise.
The "Boyfriend" singer has always won Gomez back by showcasing his romantic side. Over the summer, he took her on a vacation to Canada where the couple met his family.
It is also possible that Bieber might plan another vacation to a romantic destination to woo back his on-again-off-again girlfriend.
According to the source, the 20-year-old "Baby" crooner is lucky that his 22-year-old ladylove is not "a high-maintenance prima donna."
The insider said: "If Justin whisked Selena away on a romantic holiday vacation and gave her a promise ring, that would do the job. Selena is not a high-maintenance prima donna, but she does want her man to treat her like his queen."
With the New Year just around the corner and rumours of a new men in Gomez's life, Bieber really needs to plan something soon if he doesn't want to lose the love of his life forever.
"Basically, Justin needs to make a huge effort and the clock is ticking," the source further added.
For Gomez, she is apparently very disappointed in Bieber because of the way he is flaunting his relationship with Hailey. She knows that Bieber and Hailey aren't dating, and is aware that he is trying to make her jealous.
Meanwhile, Gomez in her latest Instagram post is seen trying to pull off a Jackie Kennedy Onassis style. It might be a move to show Bieber what he is missing.