Selena Gomez has topped the Instagram rich list with an estimated earnings of US$ 550,000 per post. The 24-year-old Bad Liar singer has the largest number of followers on the photo sharing app with over 123 million people.
Kim Kardashian came second in the list with approximate earnings of US$500,000 per post. Her siblings Kylie Jenner, Kendall Jenner, Khloe Kardashian and Kourtney Kardashian are placed fourth, fifth, sixth and seventh in the list.
Cristiano Ronaldo is named as the third highest celebrity earner with around US$400,000 of earnings per post. Other popular names included in the list, which is compiled by an Instagram scheduling site called Hopper HQ, are Cara Delevingne, Gigi Hadid and Lebron James.
Also read Kendall Jenner and others jump on 'free the nipple' bandwagon
Check out the top 10 Instagram rich list of celebrities below:
| | | |
| --- | --- | --- |
| Celebrity | Number of Instagram followers (in millions) | Earnings per post (US$) |
| Selena Gomez | 123 | 550,000 |
| Kim Kardashian | 100 | 500,000 |
| Cristiano Ronaldo | 104 | 400,000 |
| Kylie Jenner | 95 | 400,000 |
| Kendall Jenner | 81.7 | 370,000 |
| Khloe Kardashian | 68 | 250,000 |
| Kourtney Kardashian | 57.8 | 250,000 |
| Cara Delevingne | 40.4 | 150,000 |
| Gigi Hadid | 34.7 | 120,000 |
| Lebron James | 30.7 | 120,000 |
Meanwhile, people close to Gomez and her boyfriend The Weeknd, whose real name is Abel Makkonen Tesfaye, claimed the couple is trying out new things to keep their relationship fresh and spicy.
"The Weeknd and Selena are so close and such a perfect couple and together have now begun learning and brushing up on their Spanish. They're both trying to speak it fluently and are aiming to only speak to each other in that language," a source told The Hollywood Life.
The industry insider also claimed that sometimes the duo uses Google translator to understand what the partner is saying. According to the source, the former Disney star and her lover are having a lot of fun learning the language.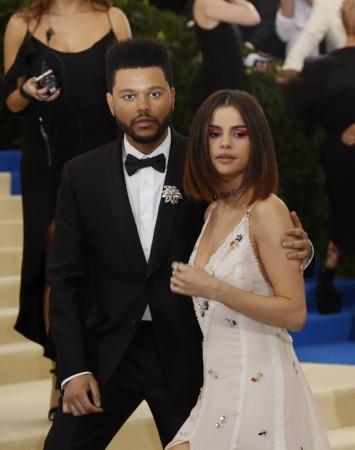 "They laugh because at times they can't understand one another and then use google translator figure out what the other is saying. He's really good at rolling his r's and Selena thinks he sounds so sexy when he does it and can't help but kiss his lips. It's such a turn on for her! They're loving and enjoying the learning experience and are having so much fun," the source said.
Watch Selena Gomez latest music video Bad Liar below: