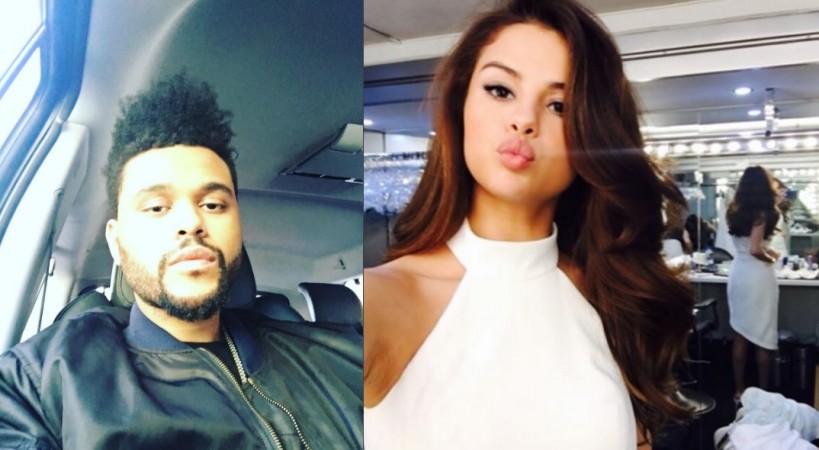 Selena Gomez and Abel Makkonen Tesfaye a.k.a The Weeknd have officially announced their romance on social media by sharing an adorable moment of their date night in Los Angeles on Saturday, March 8.
Although this is not the first time that the celebrity couple have given a hint about their blossoming romance on public platform after tabloids linked the two together, the photo added by the Canadian singer to his Instagram stories says it all about their relationship.
As of now, Abel's Instagram update with Gomez has captured the attention of over 11 million followers and received more than 11,173 comments. Some of the social media users, including Yensy Chinita, praised the couple, as she wrote, "Cutest couple ever."
Also Read: Selena Gomez-The Weeknd to get engaged; family members discussing their marriage?
"Finally!!! It took him so long," wrote another netizen in excitement as she saw their adorable image shared on photo sharing platform. "I love this photo so much! You two are amazing together!" commented a follower of The Weeknd.
"He finally did it.. he made it oficial... yay!!!! So happy.. this is what I was waiting for.. I think they are adorable together," wrote an Instagram user as a few of the Jelena fans started filing up the comment section with hateful messages against the Canadian singer and his girlfriend.
The haters messages ranged from, "You're disgusting and you need to commit suicide already you're depressed" to "I can hear Justin crying in the distance."
The relationship update by Abel comes hours after his former girlfriend Bella Hadid unfollowed him on Instagram and made their break up official on social media.
Meanwhile, an industry insider claimed that Gomez wanted the world to know about her romance with the Canadian singer. "She wants the world to know they're together. She only does that when she's really dating someone," the source told US Weekly.
A person close to Abel also stated that he is really proud of his lover and he wants to be by her side. "He thinks she is extremely talented and sexy. They recently started talking before the holidays but she has been on his radar before. They are on the same level with expectations and think the other is really fun," E online quoted the source.