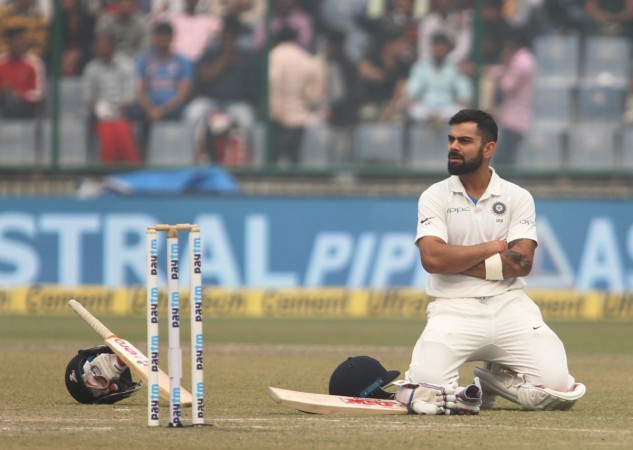 Former India opener Virender Sehwag has lashed out at Sri Lanka cricketers after they held up play, complaining of air pollution on the second day of the ongoing third Test against India at Feroz Shah Kotla in New Delhi.
Sehwag said Dinesh Chandimal and his men "put up a good acting performance" to deny Virat Kohli his maiden 300 as the skipper got out for 243 after frequent delays on Sunday, December 4.
The 39-year-old added that it is not the first time Sri Lankans behaved "this way" as he recollected Suraj Randiv's infamous no-ball that denied him a century during the third match of a tri-series in Dambulla in 2010.
Notably, the Sri Lanka Cricket and Randiv himself apologised to Sehwag after the incident that created a furore among the cricket fraternity. Chasing a target of 171, India had cruised to 170 in just 34.3 overs. The former opener fell short of his ton despite hitting a six of the next ball as the Sri Lankan off-spinner deliberately overstepped.
"It's all a strategy to stop Kohli as it seemed like he was nearly there to reach the 300 landmark. It's not the first time that the Lankans have behaved this way. In 2010, I was on 99 and they bowled a no-ball, we won the match as we needed a run to win," Sehwag told India TV.
Check out Randiv's infamous no-ball here
"They do put up a good acting performance. When they came on to bat, no batsman had on any masks, did the pollution level reduce all of a sudden then?
"It was the same. The Indian players batted and fielded in the same condition and they didn't complain regarding the matter. The Sri Lanka Board should think about whatever their players did was wrong.
"It wasn't like the weather changed in the afternoon. It was the same today morning and yesterday as well and it seems like it was the Sri Lanka players strategy to stop Virat Kohli from getting to 300.
"They kept complaining about the pollution, saying that their players had difficulties in breathing. People in the dressing room had no masks on, they didn't face any problems."
Check out Gautam Gabmhir's reaction
3rd Test, Day 2 scores from Ferozeshah Kotla, Delhi:
Sri Lanka (1st innings): 131/3
Air Quality Index (1st innings): 316 without loss!!! And our leaders r debating film releases,drawing our diet-chart, searching 4 another excuse to blame govt. at d Centre n vice-versa... pic.twitter.com/lKeHa64DpY

— Gautam Gambhir (@GautamGambhir) December 3, 2017
Notably, captain Kohli was miffed with the frequent delays caused by Sri Lankan players. He decided to declare India's innings on 536 for 7, after which the Indian players came out to field without wearing anti-pollution masks.
However, according to Central Pollution Control Board (CPCB), the pollution level in Delhi worsened on Sunday. The regulatory body also lashed out at officials for organising the cricket match despite health advisories that comes with the Air Quality Index (AQI), according to India Today.