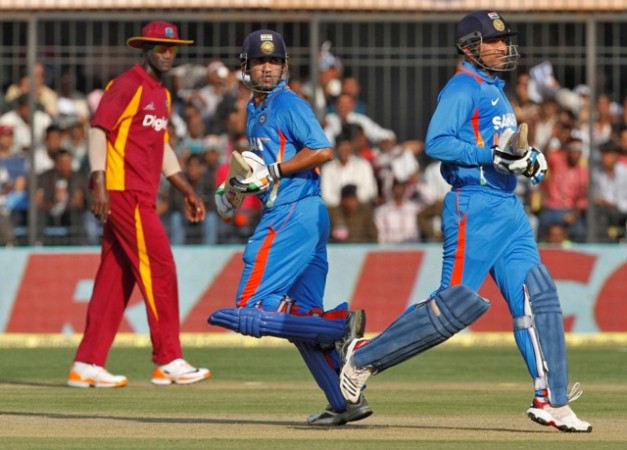 When Gautam Gambhir and Virender Sehwag were on the pitch, everything stopped. It was the willow that made all the noises. The two lethal batsmen, revered in the history of Indian cricket as one of the best opening pairs of all time, feel that India are the favourites to win the ICC World T20 2016, but there is only one team which can pose a hurdle for them -- New Zealand.
The Kiwis are ranked fourth in the latest ICC rankings and both Gambhir and Sehwag have mentioned they will be the second team apart from the Men in Blue to enter the knockout stages of the Twenty20 tournament.
India are grouped alongside Pakistan, New Zealand, Australia and a Group A winner. The other group features Sri Lanka, South Africa, West Indies, England and a Group B winner.
"Apart from India I would pick New Zealand in their group [to progress to the knockout stages]," Sehwag was quoted as saying by the Times of India. "South Africa and West Indies will qualify from the other group and I see a India-South Africa final," the 'Nawab of Najafgarh' added.
While Gambhir also seconded to Sehwag's view that New Zealand will pose a real threat to India's hopes, he feels that the spinners present in the India squad will play a crucial part in leading the team to the final of the ICC World T20.
"The spinners have been doing really well for us and looking at the conditions (in India), I feel the they will play a crucial part," the Kolkata Knight Riders skipper was quoted as saying by the TOI.
Sehwag also feels that the recent performances of Ravichandran Ashwin and Ravindra Jadeja have been purely impressive and with the presence of an experienced customer like Harbhajan Singh in the squad, MS Dhoni's men really have the ammunition to go all the way in the tournament.
"The combination of Ashwin and Jadeja has been unbelievable for India and the spinners will make big impact during the competition," continued Sehwag. "We could also see Dhoni experimenting with three spinners and giving Harbhajan Singh a go. We played three spinners in the last World T20 (in Bangladesh). There could be a chance of something similar at home this time too."
"India have 99 per cent chance of winning the World T20. India have been winning and the they have the perfect combination. We have a better chance than other teams. I say this because India today has one of world's best batting and bowling line-ups. The Indian team is fit to take any challenge," the retired batsman explained.