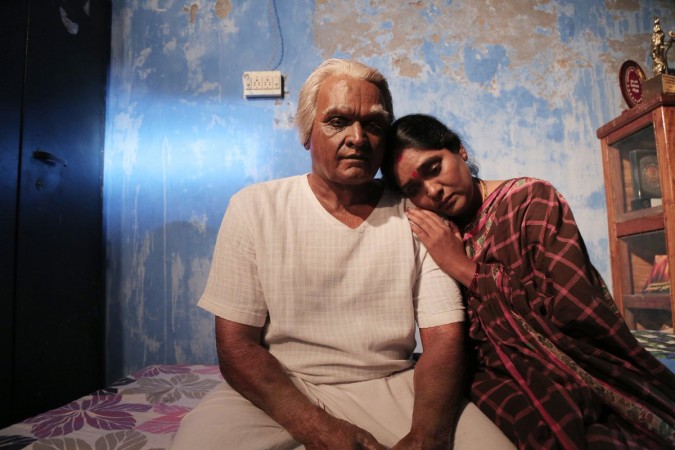 Vijay Sethupathi's 25th movie Seethakathi has garnered positive reviews from the press show which was held a few days ago. The content and the brilliant performance by the actor have been appreciated by the critics. It is now ready to woo the audience from Thursday, 20 December.
The story of the movie is about a passionate theatre artist Ayya Adhimoolam (Vijay Sethupathi). He does not like to act in films and refuses to act in movies all his life, but in a twist he decides to act in a film and turns a superstar. What follows next should be seen on-screen.
The first 40 movies has a straight narration and gives an impression of being a melodrama film, but thereafter it surprises the viewers with dark comedy. With some solid performance from Vijay Sethupathi and other artistes, Seethakathi turns out to be an enjoyable entertainer, say those who have already watched the film.
Balaji Tharaneetharan, who impressed the viewers in Naduvula Konjam Pakkatha Kaanom fame, has written and directed Seethakaathi, which has Archana, Mahendran, Ramya Nambeesan, Gayathrie, Parvathy Nair and Bharathi Raja in the cast. The movie has Govind Vasantha's music, Saraskanth TK's cinematography and R Govindraj's editing.
Reviews:
Here, we bring you the tweets of the viewers:
Christopher Kanagaraj: #Seethakaathi - Vijay Seth's portion comes for first 40 mins. Nice core idea, music. Gud perf from Rajkumar, Mouli & Sunil. Lengthy & repetative seqs r bore. 1st half alone runs for 1.40hrs. 2nd half s again a complete drag. A Different 'attempt'. But v need patience 2 like it :(
Sathish Kumar M: #Seethakathi is a perfect tribute to legends of Stage Drama for 170 minutes. People who love stage drama will like Vijay Sethupathi scenes. Actors Raj Kumar & Sunil have meaty role and have performed well.
Kannan கோ: Film inside film to convey efforts in acting as deliver msg in #Art with a fantasy storyline✌️.Epic transformation of drama characters and mass interval .2nd half felt deviated‍♂️ but humour extra ordinary. #Seethakathi - #K18.21
karthik subbaraj: #Seethakathi is a soulful tribute to Art & all the passionate Artists..With superb performances,neat writing with Balaji stamp humour, the film says in style "ART is IMMORTAL".. Kudos to #Balajitharaneetharan, @PassionStudios_ , @VijaySethuOffl n whole team Don't miss it.
Sathya Narayanan: #Seethakaathi is equal parts arthouse and commercial. It's a masterful mix of tragedy, comedy, and drama. Most of all, it's a thoroughly original film.
Vijay Sethupathi has chosen a passion project for his 25th, and he deserves a lot of appreciation for bringing this film to us.
Gokhul S: #Seethakaathi - Appreciate @VijaySethuOffl for choosing his 25th movie in which he will be onscreen for just 30 odd minutes.. while entire movie runs on his character.. Tat 30 odd mins is enuf to prove his acting skills..!! Hats off to entire crew for this unique movie..
RS Prasanna: #Seethakathi is truly a passion project from @VijaySethuOffl and #BalajiTharaneetharan, a love letter - nay, a somber prayer to "Ayya"! That VJS chose this as his 25th shows his pure love for Art! Kudos @PassionStudios_ @Arunvaid for being the "medium" for this! ;p
Happy Man: #Seethakathi -poor copy of kavyathalivan and uthama villan.
movie based upon on drama artistes and theatere play actor.
not cup of my tea
Nikhanj: Though the conveyed message - "art never dies" is satisfying, the movie as a whole doesn't appeal to me.Expected to see an aged VJS carry the whole movie on his shoulders but ended up seeing him in a noteworthy cameo.Wished to see more of him #Seethakathi #SeethakaathiFromToday
NIVAS: #Seethakathi : Kind Gesture By @VijaySethuOffl For Acting In Just 30Mins In His 25th Film & Allowing Rest Of The Cast To Share Equal Screen-Space. Fantastic Acting By Each & Everyone.
Govind Vasantha's BGM Scores Big!
A Genuine Masterpiece!
Rahul Joseph: #Seethakaathi. Colour me impressed - came for Vijay Sethupathi, stayed for the music and the brilliant supporting cast. Not what I was expecting. Could have been 20 mins shorter though.
Raisa Nasreen: #Seethakathi: quite different, very interesting plot that keeps you engaged. Haven't seen a story such as this in recent times. Liked the scenes of meta-inside-meta!
Would recommend people to watch the brave, interesting and fun film to know what they think. #seethakathi.
PS Mithran: #Seethakaathi is a fable. A glorious tribute to the art of acting. தமிழ் Cinema's first genuine attempt at #MagicalRealism. With tremendous acting from @VijaySethuOffl & the entire ensemble Director #BalajiTharaneetharan has given us an outstanding film
Karthick Naren: #seethakaathi is a celebration of art. A heartfelt tribute by Balaji Tharaneetharan sir. The performance of the entire cast deserves a standing ovation. Has many moments of cinematic brilliance but a sequence in particular left me absolutely speechless. A very special film!
Parvatii: #Seethakaathi is a new age epic. What emotions, what liveliness! Its time to celebrate theatre artists, the real, unsung heroes of generations. @VijaySethuOffl, is there anything that u can't do? He is AYYA. Director Balaji will make u smile, cry and crave for more such films!