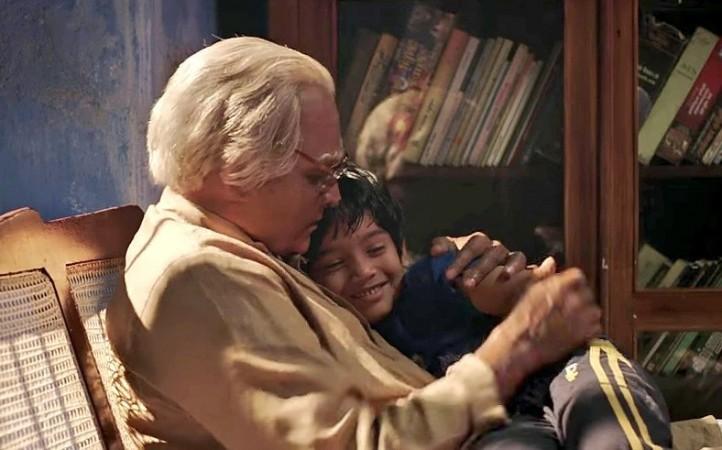 The trailer of Vijay Sethupathi's upcoming movie Seethakaathi has won unanimous positive reviews from the audience, critics and celebrities from the Kollywood. In about a day, the clip has registered over 25 lakh hits on the official YouTube page of Think Music India, the official audio rights holder of the Tamil flick.
The movie gives glimpses to the life of ageing superstar Ayya, played by Vijay Sethupathi. It traces the life of a gifted drama artist to the most celebrated film star! It is an interesting piece of video which reminds of Kamal Haasan's artistically brilliant movies.
It is one of the lengthiest Tamil movie trailers (3.09 minutes) in recent years, but Vijay Sethupathi's performance and Govind Vasantha's apt background score leave the viewers in awe of the flick.
Many celebrities have taken to Twitter to praise the trailer and a select few comments can be read here:
M Sasikumar: Wishing my dear friend Vijay Sethupathi on achieving this feat of 25 films. All the best for #Seethakaathi team ! @VijaySethuOffl #SeethakaathiTrailer
pa.ranjith: Interesting trailer congratulations #Balajitharanidharan & team
#SeethakaathiTrailer
kathir: Perfect 25th film from Our Dear @VijaySethuOffl Anna! U & ur journey is an inspiration for many of us! Love u na ❤️
#SeethakaathiTrailer is here & early waiting for Dec 20 to see this mind blowing film filled emotions! Congrats & Best wishes to the team!
VISHNUU VISHAL: VV: 25th film:) wil always b special ..n d trailer alrdy looks special :) @VijaySethuOffl congrats n all d best :) https://youtu.be/GDyg4qxeX68 #SeethakaathiTrailer
Ramya Subramanian: If you had never made it,Tamil Cinema would have lost the crown to its kingdom !
Happy 25 films @VijaySethuOffl ❤️!
I feel so honoured to launch this lovely #SeethakaathiTrailer !
https://youtu.be/GDyg4qxeX68
Tamannaah Bhatia: The #SeethakaathiTrailer is so lovely and moving. My best wishes and heartiest congratulations to @VijaySethuOffl for his 25th film
@tridentartsoffl
Dhananjayan BOFTA: #SeethakaathiTrailer is heart-warming & emotionally connecting. @VijaySethuOffl
reinvents & sets new benchmark with each film. Hearty congratulations on his 25th film & best wishes to Team. Looking forward. Proud to have worked with him in #Purampokku
karthik subbaraj: Here it is... Super interesting trailer of #Seethakathi VSP's 25th film directed by Balaji tharaneetharan... Awaiting for this film.. https://youtu.be/GDyg4qxeX68
ArunVijay: My hearty wishes to @VijaySethuOffl brother for his 25th .. Good luck to the entire team..#SeethakaathiTrailer
#VijaySethupathi25
Ranganathan Madhavan: Happy to Launch this Soulful #SeethakaathiTrailer
Congrats @VijaySethuOffl for his 25th film AWESOMEEE
https://youtu.be/GDyg4qxeX68
Vignesh ShivN: #SeethakaathiTrailer
Ayyaaaa @VijaySethuOffl U r greatt
Congrats for making #Seethakathi as ur 25th film