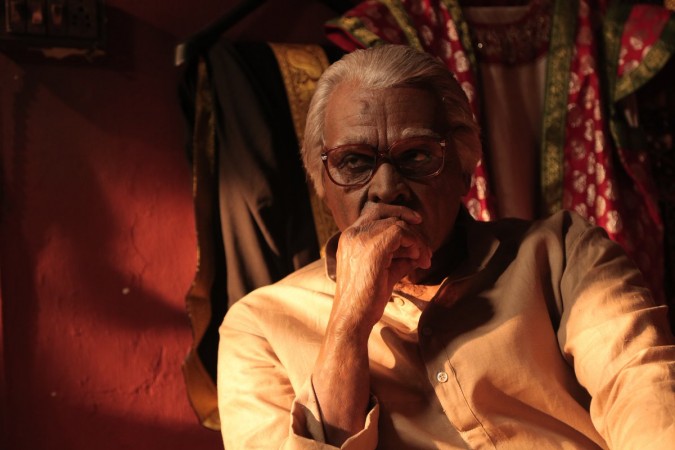 Vijay Sethupathi, who started his career in small roles in Kollywood in mid 2000s, is reaching a milestone with his latest film Seethakaathi, which is his 25th movie (in notable role) of his career. After being part of numerous films, he got a major break in Karthik Subbaraj's Pizza.
Since then, Vijay Sethupathi's career has seen only highs, movie after movie. In recent years, he is one actor, whose films have consistently performed at the box office and won critical appreciation. With his latest movie Seethakaathi, he has left the audience spellbound with his image makeover of an old man.
Vijay Sethupathi has essayed the role of an eighty-year-old drama artist. The movie is coming up with a message that the art and artists are immortal and their works will be spoken even after their deaths. The movie is said to be based on a Tamil scholar and touches upon his teaching and values.
Balaji Tharaneetharan of Naduvula Konjam Pakkatha Kaanom fame has written and directed Seethakaathi, which has Archana, Mahendran, Ramya Nambeesan, Gayathrie, Parvathy Nair and Bharathi Raja in the cast.
The movie has Govind Vasantha's music, Saraskanth TK's cinematography and R Govindraj's editing.
Reviews:
While the movie will see the light of the day on December 20, it is having its press show three days before its release. Here, we bring you the critics' tweet reviews about the flick.
Kaushik LM: #Seethakaathi -Soulful, passionate attempt by #BalajiTharaneetharan @PassionStudios_ @VijaySethuOffl and the team. They've approached the film like art, & also kept it entertaining. Blissful score by @govind_vasantha . Has generous comedy, grt performances & engaging emotions
#Seethakaathi 2nd half - Extraordinary debut by Sunil (@actor_vaibhav's brother). It's tough to play such a part, variety comedy.
Hatsoff to #BalajiTharaneetharan for an audacious, experimental attempt banking on a wacky, outlandish concept. @VijaySethuOffl deserves a salute too
Haricharan Pudipeddi: #VijaySethupathi continues to amaze with his choice of scripts and #Seethakaathi is a film he can really be proud of. It's quirky and emotional; experimental and masses-friendly. Also, @govind_vasantha's score is the film's biggest highlight.
Absolutely loved #Seethakaathi, which works beautifully as a meta film on art, stardom and fandom. Quite an experimental attempt within the commercial space but is equally fun.
Ramesh Bala: More
#Seethakaathi [4/5] : A unique story idea.. Executed well..
@VijaySethuOffl and the promos r calling cards..
But the movie like Dir 's #NKPK is a quirky comedy..
@VijaySethuOffl has "lived" his role..
The movie has lot to offer.. A clean fun, humour movie.. Don't miss it!
#Seethakaathi 1st Half : An unique story idea.. What we saw in trailer is jus a tease..
Movie is much more than that.. @VijaySethuOffl has lived his role..
Lot of humour..
Sidhu: #Seethakaathi: @govind_vasantha - what a splendid job. His excellent score complements the tone of the film and is a sign of how a composer can prove his versatility to the fullest in an experimental script. Every film of his hereon will be much sought-out!
#Seethakaathi: Balaji Tharaneetharan scores big time by mixing quirky humour with the whacky and emotional backdrop of the film. Just like dramas, he makes use of elaborate, 20-minute sequences to deliver important parts of his story. Fresh and smart narrative pattern!
More
#Seethakaathi: Wonderful. A brave and honest shot at bringing together a variety of genres in a single film, and still making it enjoyable to the audience. Solid writing, great casting and a superb cinematic experience on the whole!
#Seethakaathi Interval: Hugely engrossing. An experimental yet commercial attempt that is a mix of many genres, packed with surprises. #VijaySethupathi is impressive but the real hero here is @govind_vasantha with his terrific score!