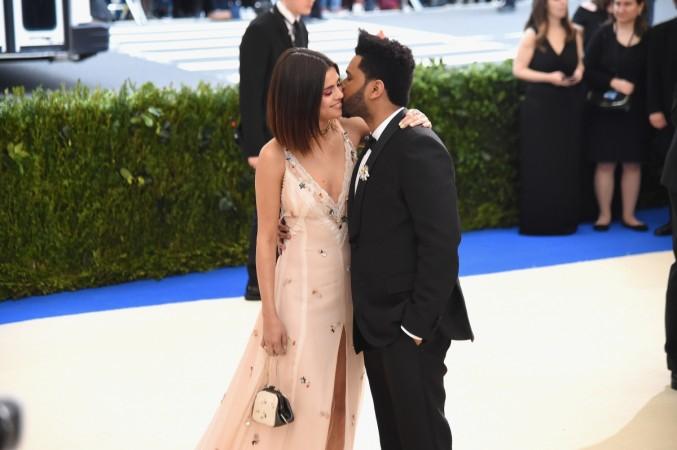 Oh la la! Selena Gomez is raging fire on Instagram. The sexy diva, who has been often clicked with her boyfriend The Weeknd (real name Abel Tesfaye), has taken to the photo-sharing app to share a few gorgeous pictures.
The Bad Liar singer looks breathtaking as she poses against a setting sun sitting in an open space.
Also Read: Selena Gomez talks about spending time with boyfriend The Weeknd
Gomez was actively promoting her recent song Bad Liar on her Instagram. The haunting song has created a buzz online and some even believe that the recent release could feature in the second season of Netflix's 13 Reasons Why.
It is days after the song released that the diva decided to give a first-hand view of her sensual aura on Instagram. Sharing on her official handle, Gomez is clicked with her brown hair down. The 24-year-old singer is seen in a pearl white one piece dress that barely covers her bosoms, giving a good look at her cleavage. With the gown lifted up to her thighs, she gave a good look at her sexy legs.
The singer is seen on garden chairs as the shadow of the plants falls on her dress. The picture is framed in a manner that she looks like the goddess of sensuality. Damn, lucky you The Weeknd!
The satin negligee gown teased at her bust as the lace bordered the small piece of clothing covering her modesty.
The two singers were reportedly seen enjoying a date night in Rao's restaurant in Spanish Harlem, New York on Tuesday, Daily Mail shared.
Holding hands, the couple walked out of the exclusive 10-seater restaurant as paparazzi clicked them walking out after their dinner.
The love birds are clearly head-over-heels in love with each other. Numerous sources have told a number of tabloids are quite serious about their relationship. Talking to the Morning MashUp, Gomez also shared, "I love being supportive," Gomez gushed."I love just being there and having someone's back. It feels good. I haven't had that feeling in a while."
Aren't the adorable!