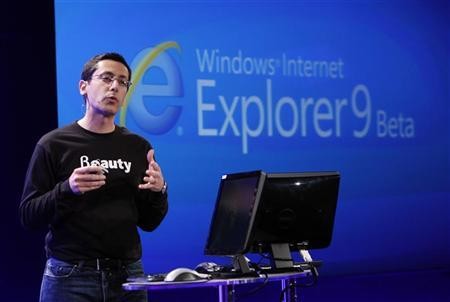 Microsoft's Internet Explorer (IE) has been identified with a flaw and is thus urging users to go for alternative browsers until the issue gets fixed.
On Tuesday, the German government urged the public to stop using Internet Explorer as there was a threat identified from an unknown source. The threat has been identified in several versions of Internet Explorer.
The bug was identified by researcher Eric Romang on Friday. Security officials warned users against the usage of Internet Explorers versions 7, 8 or 9. Any of these browsers running on Windows XP, Vista and Windows 7 all have greater vulnerability to remote control execution.
"A fast spreading of the code has to be feared," the German government said in its statement.
In response to this newly emerged threat, the Security centre of Microsoft had released a temporary security measurement asking users of Internet Explorer to install a security tool provided in the website.
"We're aware of targeted attacks potentially affecting some versions of Internet Explorer," Microsoft said in a statement as quoted by The Gadget Website.
The security tool (Enhanced Mitigation Experience Toolkit or EMET) is available on Microsoft website and users can download it for free. The company has asked users to download and install this security tool and also advised them to configure the tool manually to protect the PC from the threat.
Meanwhile, government agency Federal Office for Information Security or BSI asked the public to use alternative browsers like Google Chrome, Mozilla Firefox and Opera Software ASA's Opera.