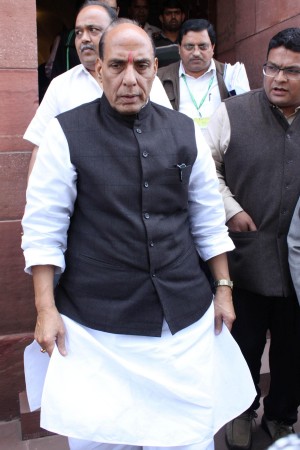 Inaugurating the International Counter-Terrorism Conference in Jaipur on Thursday, Union Home Minister Rajnath Singh said that the security situation in South Asian countries will improve if Pakistan and Inter-Services Intelligence (ISI) stopped supporting terrorist groups.
The Union Minister said that Pakistan should stop using terrorism as an instrument of proxy war as it will be against their own interest, while pointing out that there's no good or bad terrorism.
"Differentiating terrorists into good and bad categories has failed miserably. If the ISI and the Pakistan Army stops lending support to certain terror outfits, I have no hesitation in saying that the security situation in South Asia will improve significantly," The Indian Express quoted Singh as saying.
While lashing out at Pakistan for breeding terrorism, Singh also mentioned the ongoing unrest in middle-eastern nation caused by the terror group Islamic State or Isis.
The militant group, in its attempt to spread terror beyond Iraq and Syria, is trying to radicalise youths through social media. Several such incidents have already surfaced in recent months and a few were reported from India.
"These terrorists unleash the worst forms of violence to erase the diversity and destabilise the democratic order...These terrorists are adept at using the latest technologies to propagate their beliefs and deeds," Singh said.
He, however, believes that Isis cannot influence the Indian youths.
"Indian Muslims are patriots and are not swayed by fundamentalist ideologies. Extremism is alien to their nature," Singh said, adding: "Just a handful of Indian youth have joined the Isis. Some have also returned after being persuaded by their families," Zee News reported.
The Home Minister also suggested that there's a need for international co-operation to fight these terror groups as they are spreading violence through innocent youths by poisoning their minds with fundamentalism.
"Their online propaganda is causing self-radicalisation among youths. It is a matter of serious concern that they are seeding the minds of innocents with poisonous provocation and inspiring them to be brutally intolerant and violent with others," he said.
"International co-operation is also needed to build popular opinion and pressurise the countries that use terrorists as their strategic assets," HMO tweeted.