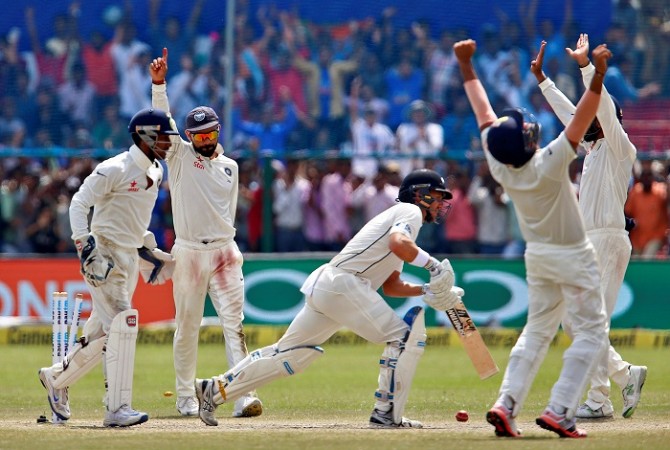 The opening Test match – India's 500th overall – went according to plan and more of the same will be the mantra for the second Test – India's 250th at home. Eden Gardens in Kolkata will host another momentous game as Virat Kohli and co. look to clinch the series against New Zealand with one more home Test victory.
India's 500th Test match was perfect in every way – Kanpur served up a great pitch, New Zealand were worthy opponents and the India players stepped up to the plate to perform under pressure.
With the first Test now out of the way, all the resources and concentration will be on putting on another all-round performance in Kolkata. The wicket is not expected to be as dry as the one in Kanpur, which means the spinners might not come into play as much. But, what has been good about this India side is that, no matter the conditions, they have always managed to find a way to get on top of the opposition.
As New Zealand showed in the first Test, they are a quality side, so for India to beat them by 197 runs is a commendable achievement. However, resting on those first Test laurels will not do and what India need to show is that they can keep that momentum up, continue playing good cricket, be that with bat or ball, and show the ruthlessness necessary to seal the series at the Eden Gardens.
With R Ashwin and Ravindra Jadeja in prime form and Mohammed Shami showing just how dangerous a Test match bowler he is, particularly when the ball reverse swings, India have a lot of good things going for them with the ball.
The batting, though, can improve. Murali Vijay and Cheteshwar Pujara struck half-centuries in each innings, but failed to convert them into a big score, while Virat Kohli and Ajinkya Rahane – someone of Rahane's class should be scoring more than 18 and 40 in a Test match – could have done a lot better. The captain, in particular, needs to show he is the same unstoppable force in Test matches as he is in the limited-overs format and what better venue to do that than the Eden Gardens.
India's lower middle-order and lower-order batting was a big plus point and if the likes of Ashwin and Jadeja can continue contributing with the bat, this team will become extremely difficult to beat.
New Zealand will also know they need to improve on their batting, with the onus on Kane Williamson to make a big score. Martin Guptill, if he plays must bring his ODI powers into Test match cricket, while an experienced batsman like Ross Taylor really needs to lead by example.
The bowling can also improve, but the key to this Test match will be how the New Zealand batsmen fare against the India bowlers.
Second Test schedule: India vs New Zealand.
Date: Friday, September 30-Tuesday, October 4.
Time: 9.30am IST (5pm NZT, 5am BST).
Sessions timings: First session: 9.30am to 11.30am IST. Lunch: 11.30am to 12.10pm IST. Second session: 12.10pm to 2.10pm IST. Tea: 2.10pm to 2.30pm IST. Third session: 2.30pm to 4.30pm IST (can be extended by half an hour).
Venue: Eden Gardens in Kolkata.
TV listings: India: Star Sports 1, Star Sports HD1, Star Sports 3 (Hindi) and Star Sports HD3 (Hindi). New Zealand: Sky Sport 3. USA and Canada: Willow TV. UK: Sky Sports 3. Middle East: OSN Cricket.