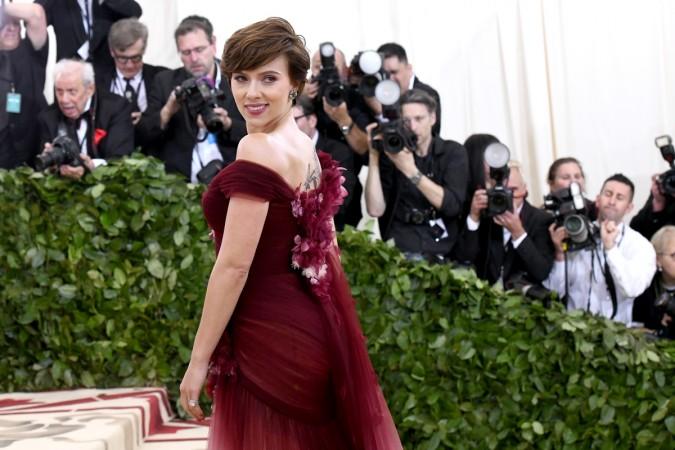 Avengers: Infinity War actress Scarlett Johansson has been signed to play Dante "Tex" Gill, a transgender man, in the movie Rub & Tug. The movie will tell the story of Gill, who owned a massage parlour in the underground sex industry in Pittsburgh during the 1970s, Vice News reported.
Twitter erupted over the decision to cast the Black Widow star questioning why the filmmakers couldn't cast a transgender star to play the role. A massive backlash led to several outlets reaching out to the star for a statement.
Johansson gave a fitting response to these critics online. In a statement to Bustle, her representative said, "Tell them they can be directed to Jeffrey Tambor, Jared Leto, and Felicity Huffman's reps for comment."
Jeffrey Tambor won an Emmy for playing a transgender woman named Maura Pfefferman in the show Transparent. Jared Leto played a transgender woman in Dallas Buyers Club. And Felicity Huffman was a transgender woman in TransAmerica.
The actress points out the hypocrisy in the situation while Twitter continues to criticise her. Many users felt that she was not the right choice for the role. "Literally the LEAST you could do when making a movie about trans people is to cast a trans person in the role that was written for them. Scarlett Johansson needs to stop naievely choosing roles, and studios need to do better," an online user wrote.
"No offense to Scarlett Johansson but there are many beautiful trans women in the world, and I MEAN MANY...so ask Hollywood to keep looking!" added another user.
Scarlett Johansson is playing a trans man in her next movie because her ultimate career goal is to take an acting job from a member of each and every marginalized group.

— Faith Choyce (@faithchoyce) July 3, 2018
First the Japanese, and now Scarlett Johansson is taking on the trans community with her new film Rub and Tug. I can't wait until her Rosa Parks film comes out. https://t.co/nbmoMkoNlN

— Valerie Vza Complex (@ValerieComplex) July 3, 2018
You're making a movie about a fat, Trans man who was a crime boss and Scarlett Johansson is the first name that comes to mind? Really? https://t.co/P3Vnb91HRp

— @red3blog (@red3blog) July 3, 2018
This isn't the first time Johansson's casting has stirred up a controversy. When she was chosen to play the lead in Ghost in the Shell, Manga fans accused the makers of white-washing the movie when the Manga character was an Asian.