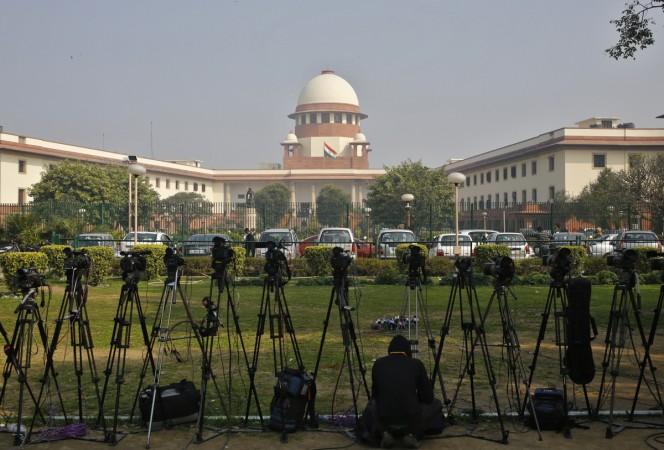 The Supreme Court is likely to pronounce on Tuesday its verdict on a public interest plea seeking to debar from the electoral arena the politicians with criminal antecedents against whom charges have been framed by trial courts for heinous offences.
The five-judge constitution bench comprising Chief Justice Dipak Misra, Justice Fali Nariman, Justice A.M. Khanwilkar, Justice D.Y. Chandrachud and Justice Indu Malhotra had in the course of hearing made it clear that it can neither lay down a law nor ask the Parliament to enact one to bar the politicians with criminal antecedents from contesting elections.
"We can't make a law or do indirectly what we can't do directly. We will only see if we can do anything on disclosure (of criminal antecedents). We will see if we can add to the disclosure so that people make a well-informed choice at the polling booth. Let people judge," Chief Justice Misra had said on the conclusion of arguments on August 28 when the verdict was reserved.
Accepting that it could not pass directions which are in the nature of law making nor it could, respecting the separation of powers, ask the Parliament to enact law ejecting politicians with criminal antecedents from the electoral field, the Chief Justice taking recourse to the Right to Information, had said: "Right to information (about the criminal antecedents of the candidates) means right to proper information."
This court had said in the wake of strong resistance by the Centre which had told the court that the law making was within the exclusive domain of the legislature and "what court can't do directly (asking legislature to enact law), it can't do indirectly (by asking the Election Commission to frame regulation under the Symbol Rules)".
The court in the course of the hearing had asked whether it could direct the Election Commission to include in the symbol order a clause that a political party is liable to lose its recognition if it fields candidates accused of heinous crimes.
Recognising its constitutional limitations that it can only interpret the constitution and either read down or uphold a law, the court had indicated that it could take recourse to right to information to pass directions about the dissemination of information about the antecedents of a candidate so that voters could make an informed choice at the polling booth.
The Election Commission had told the court that it had made the recommendation to eject a candidate from the electoral fray after the framing of the charges in heinous cases way back in 1997, which was reiterated in 1999 and subsequently, but nothing moved.
Seeking the barring of politicians charge-sheeted in heinous crimes from the electoral fray, the PIL petitioner NGO Public Interest Foundation had contended that Parliament with 34 per cent lawmakers with a criminal background will never act to cleanse the electoral politics.