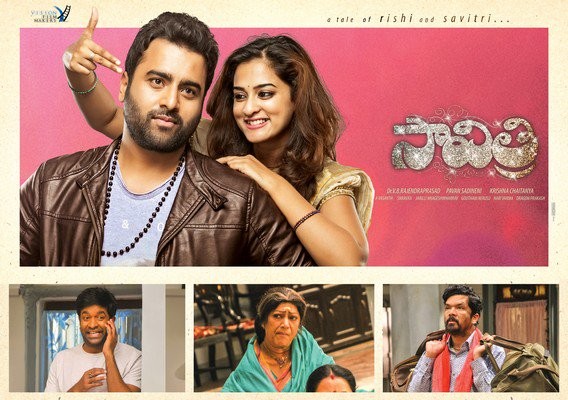 Director Pawan Sadineni, who had earlier earned accolades for the film, "Prema Ishq Kadal," is back with the Telugu movie "Savitri." The Nara Rohit, Nanditha Raj- starrer is getting mixed reviews from viewers around the world.
Check: Balakrishna at Savithri Audio Launch Photos
"Savitri" is a family entertainer with some commercial ingredients thrown in to woo the mass audience. The story and screenplay of the film have been written by Pawan Sadineni, while Krishna Chaitanya has penned the dialogues. The movie revolves around the story of Savitri (Nanditha Raj), who is obsessed with marriage. How everything changes when Rishi (Nara Rohit) enters her life forms the crux of the story.
Latest audience reviews say the first half of "Savitri is hilarious, and the comedy scenes evoke loud laughter. The twist before the interval is good too and a few emotional moments keep the viewers engaged in the second half of the film. It is worth a one-time watch, they say.
Nara Rohit and Nanditha Raj have acted brilliantly, and their chemistry is the highlight of the movie. Murali Sharma, Dhanya Balakrishna and Ajay have also performed well. Shravan's music and A Vasanth's picturisation are the commendable aspects on the technical front, add the viewers.
Here is a live update of the "Savitri" movie reviews posted by viewers:
Dheeraj ‏@dheerajanasi
#Savitri 1st half so far hilarious and feel good Interval bang is very good #Savitri on the whole very feel good entertainer. Suthi lekunda Sooti ga chepadu.
#SardaarGabbarSingh ‏@Thurumgadu
#Savitri pakka family entertainer may be this will be the biggest hit in rohitnara career my rating 4/5 @IamNandithaRaj you are fantastic
M@n$00® A£| ‏@143_mansoor
@IamNandithaRaj watched d premier of #Savitri movie Movie superb Love ❤ and family entertainer
Fukkard ‏@Fukkard
#Savitri in theatres ... interval mundhu there is a treat for #Balayya fans.
LI(O)VING LIFE ✨ ‏@keshavchowdary
Good Family Entertainer!!! #SAVITRI
Telugu360 ‏@Telugu360
#Savitri 1st Half Report : Pathetic ! Worst production values than any TV serial. 1/5 so far ; Wonder why Nara Rohit, once known for selecting good story lines , agreed to do ' Savtri ' like mindless movie. #savitri #Savitri 2nd half done. Even with just 123 mins runtime,every minute of this movie is literally unbearable. 0.5/5 Rating !
Das C H ‏@chs_dass
#Savitri below average 1st half..it has some silly comedy scenes in the middle..good music and interval scene..nanditha impresses throughout #Savitri 2nd half except for few good scenes nothing much in the film..director could have handled much better..comedy totally failed. #Savitri a below average flick..lead pair is good...comedy fails.
VICTORY ‏@mahesh2442
Entire train episode is hillirious.... @pavansadineni #Savitri Entertaining 1st half with interval twist.... #Savitri @vennelakishore your English was awesome... #Savitri
AB Fan ‏@kalyanathidhi
Bane undi first half. No boring moments. Good interval bang. #Savitri @AsianCinemas_ Second half inka konchem better ga handle cheyachu Overall ga average, not a bad film #Savitri
PavanKumar Mannem ‏@mpk1988
OK 1st half. Would be much better if cared little more. Nice twist at the interval. #Savitri
YATHI™ ‏@ursyathi
ROD #Savitri 1st half. Intervel fight maathram feast for @RaviAKP Anna.
Pavanutnoor ‏@pavanutnoor27
1st half entertaining #Savitri Done with 2ND half #Savitri Congrats #nara rohit
Priyanka Reddy ‏@preancareddy
#Savitri esply tat haunting bgm score is so gud Dir of premaishqkaadhal Came up with very gud content for gals All #Savitri s go n watch it
Chandrakanth ‏@itschandrakanth
#Savitri ....nice family entertainer.