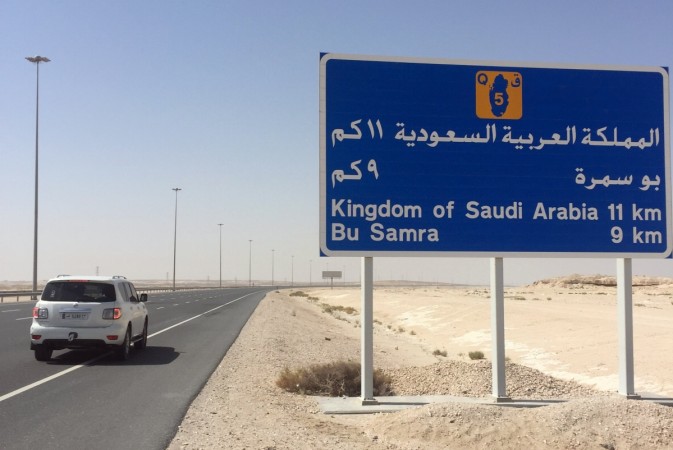 A Saudi government official hinted on Friday, August 31 that the kingdom was moving forward with a plan to dig a canal that would turn the neighbouring Qatari peninsula into an island, amid a diplomatic feud between the Gulf nations.
"I am impatiently waiting for details on the implementation of the Salwa island project, a great, historic project that will change the geography of the region," Saud al-Qahtani, a senior adviser to Crown Prince Mohammed bin Salman, said on Twitter.
According to a report in Hindustan Times, the plan, which would physically separate the Qatari peninsula from the Saudi mainland, is the latest stress point in a highly fractious 14-month long dispute between the two states.
Saudi Arabia, the United Arab Emirates, Bahrain and Egypt cut diplomatic and trade ties with Qatar in June 2017, accusing it of supporting terrorism and being too close to Riyadh's archrival, Iran -- charges that Doha denies.
In April, the pro-government Sabq news website reported government plans to build a channel - 60 kilometres (38 miles) long and 200 metres wide - stretching across the kingdom's border with Qatar. Part of the canal, which would cost up to 2.8 billion riyals ($750 million), would be reserved for a planned nuclear waste facility, it said.
Five unnamed companies that specialise in digging canals had been invited to bid for the project and the winner will be announced in September, Makkah newspaper reported in June.
After the dispute erupted last year, Qatar, a small peninsula nation, found its only land border closed. Its state-owned airline was barred from using its neighbours' airspace and Qatari residents were expelled from the boycotting countries. Mediation efforts led by Kuwait and the US, which has its largest Middle East air base in Qatar, have so far failed to resolve the dispute.
Saudi authorities did not respond to requests for comment and there was no immediate reaction on the plan from Qatar as well.