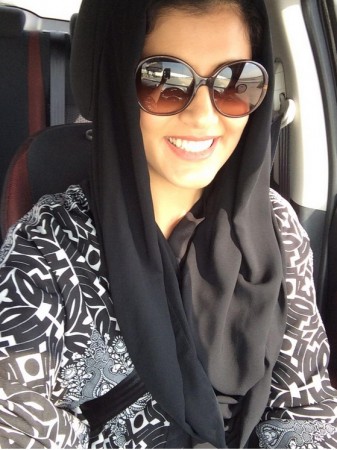 Loujain Hathloul, the woman who tried to drive into the Kingdom of Saudi Arabia in defiance of the driving ban against women, was arrested on 1 December after being detained at the United Arab Emirates border for a day.
Activists told Al Jazeera that she was arrested on Monday afternoon.
Hathloul has been live-tweeting her predicament, which is how the incident came to public attention: "I have been at the Saudi border for 24 hours. They don't want to give me my passport nor will they let me pass," the Saudi woman said in a tweet.
Six hours into her detainment the Saudi activist was still optimistic and joked, "If someone brings me a horse or a camel to the border, maybe then I'll be allowed to pass."
After spending a night confined to her car, Hathloul tweeted, "Thank god there is benzene left . If it wasn't for god I would have died from cold and my phone was dead (switched off). I have been at the saudi border for almost 20 hours."
Another female activist and a UAE-based Saudi journalist Maysaa Alamoudi, who went to support Hathloul tweeted that she met Hathloul and that the border officials asked for identification. On Alamoudi's arrival, Hathloul expressed gratitude for bringing her a toothbrush, "Refreshing," she tweeted.
The journalist was also later arrested at the border. "They transferred her and Maysaa... to the bureau of investigation" an activist said under the condition of anonymity.
Hathloul holds a driving license that is valid in all six countries under the GCC, the Gulf Cooperation Council, which also includes the kingdom of Saudi Arabia.
"The customs (department) have no right to prevent me from entering even if in their opinion I am 'a violator' because I am Saudi," Hathloul had tweeted on Monday morning along with , "My license is valid in all GCC countries as per the agreement"
Although Saudi's interior ministry is mum about the incident, many activists and journalists have taken to the social media to bring the issue to people's attention.
Journalist Mohammed Jamjoom posted, "Truly terrible that @LoujainHathloul & @maysaaX were arrested. Hoping they are safe. They should be released. @oct26driving #Saudi"
According to another tweet by Jamjoom at 5.26 pm, Arabia Standard Time, Loujain Hatholoul was taken to a girls' correctional facility and Maysaa Alamoudi to a women's prison in Saudi.
Saudi Arabia is the only country in the world that forbids women from driving. Women cannot apply for a driving licence and are liable for arrest if found behind the wheel.
In October, dozens of women activists drove in Saudi Arabia and posted images of the same as part of an online campaign demanding a lifting on the ban on women driving. And although there were speculations during early November that the sultanate was considering lifting the ban, nothing came of it.
Al Jazeera later clarified that Mohammed Abdullah Al-Muhanna, the head of the Shura council, called the reports false.
An activist, Lujain Maisa posted a video on YouTube that showed her driving in a hijaab while expressing her outrage over Hathloul and Alamoudi's predicament: "Asalamu Alaikum," she says, "I am Lujain Maisa. They (Hathloul and Alamoudi) cant go to their own country inspite of having their own car and a driving license because they are women and women arent allowed to drive."