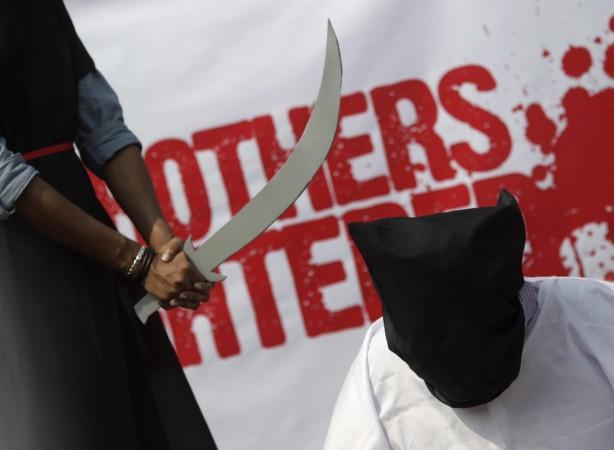 Surpassing its record figure of 2014, the Kingdom of Saudi Arabia carried out its 88th execution on Tuesday.
The Saudi interior ministry in a statement said that Saudi nationals Awad al-Rowaili and Lafi al-Shammary were beheaded for smuggling amphetamines. They were executed in the northern region of Jawf, the ministry said.
Another Saudi citizen, Mohammed al-Shihri, was separately put to death in the south-western region of Asir for murder, Middle East Eye reported.
With the latest executions, KSA has now surpassed its execution tally of 87 in 2014.
Amnesty that put Saudi Arabia among the world's top five executioners in 2014, has repeatedly raised concerns that the trials of those convicted were not conducted fairly.
Those beheaded by the Saudis this year include Siti Zainab Binti Duhri Rupa an Indonesian domestic, who it is claimed to have been mentally ill. There were reports earlier this month that Saudi Arabia beheaded five foreigners and hung their corpses from helicopter to set an example.
| | |
| --- | --- |
| Year | No of Executions |
| 2011 | 76 |
| 2012 | 79 |
| 2013 | 78 |
| 2014 | 87 |
| 2015 (Till May) | 88 |
This year at least eight Yemenis, 10 Pakistanis, Syrians, Jordanians, and individuals from Myanmar, the Philippines, India, Chad, Eritrea and Sudan have been executed, most of them by beheading.
According to the Berlin-based European Saudi Organisation for Human Rights said in a report that the death penalty in the kingdom is "often applied to powerless individuals with no government connection."
Drug and murder related convictions account for the bulk of executions in Saudi Arabia. London-based Amnesty, however, had challenged the Saudi government on the grounds that only crimes of "intentional killings" call for death penalty under international human rights standards.
Amnesty claims that court proceedings in KSA "fall far short" of global norms of fairness.