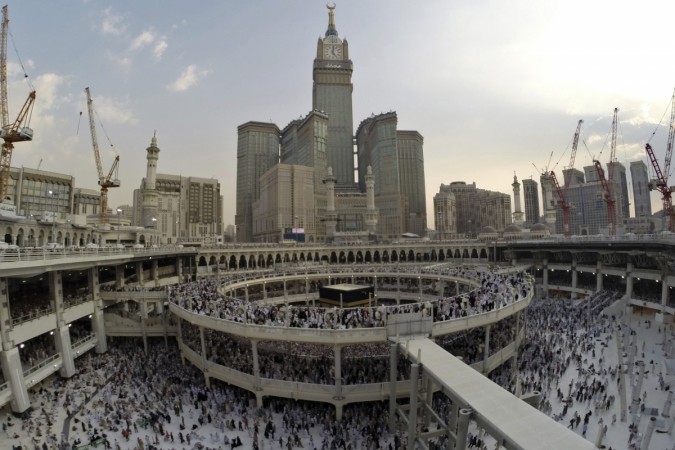 Saudi Arabia has accused Iran of politicising the hajj pilgrimage and blocking its own citizens from travelling to Mecca for the religious event, stating that the Iranian authorities will be "answerable to God." Earlier, Tehran had blamed Riyadh for sabotaging an agreement, thus denying Iranians the right to take the hajj pilgrimage this year.
Saudi Culture and Information Minister Adel Al-Toraifi on Monday reportedly said the kingdom did not want to restrict Iranians from entering the country for hajj, but said the Iranian delegation failed to sign an agreement necessary for visas and accommodation, according to Arab News, which cited the Saudi Press Agency.
He said the "Iranian government would now have to face Almighty Allah and the world to explain why its representatives failed to sign the minutes of the meeting with the Haj and Umrah Ministry."
Last week, Iran's culture minister Ali Jannati had announced that the two sides did not reach an agreement, and accused Saudi Arabia of "sabotage."
The main point of contention between the two sides reportedly was that the Iranian delegation demanded that visas for its pilgrims be issued within Iran, but Saudi Arabia refused to heed as it shut its missions in the country earlier this year when Riyadh had snapped ties with Tehran.
Relations between Shiite Iran and Sunni Saudi Arabia were severed after prominent Shiite cleric Sheikh Nimr al-Nimr was executed in Riyadh earlier this year, leading to violent protests in Iran. The Saudi embassy in Tehran came under attack during these protests, and Riyadh decided to cut ties with Iran, and asked Iranian representatives in the kingdom to leave.
"They did not accept our proposals concerning the issuing of visas or the transport and security of the pilgrims. Saudi officials say our pilgrims must travel to another country to make their visa applications," Jannati had said.
According to Arab News, Saudi Arabia had offered to issue visas to Iranian pilgrims from Dubai.
"The Ministry of Hajj and Umrah would like to indicate that the authorities in the Kingdom did not prevent, at all, coming of Iranian pilgrims and that the ban was imposed by the Iranian government, using it as a means for media pressure on the Kingdom of Saudi Arabia," the Saudi Press Agency had said last week.