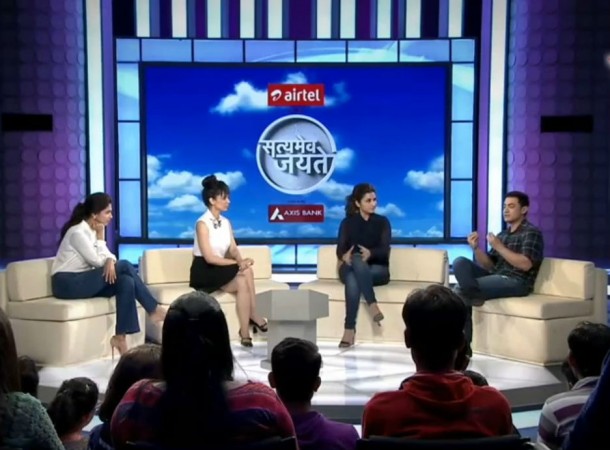 Aamir Khan's debate on 'A Real Man' on his popular talk show, "Satyamev Jayate 3", has received a fantastic response from the viewers.
Women, in particular, have all praise for Mr Perfectionist and they could not thank him enough for making an attempt to teach men across the country to be 'real men.'
Across the country, women have been victims to rape, acid attack and gender discrimination. On the final episode of "Satyamev Jayate 3", Khan chose to speak about the qualities of 'a real man'.
He also had B-Town actresses including Deepika Padukone, Parineeti Chopra and Kangana Ranaut as guests to talk about their views.
After watching the debate, many among the female audience took to their Twitter accounts to praise and thank the host.
Read Twitter reactions from some of the female viewers below:
Shrutika Lakhotia
watch today's episode of #SatyamevJayate !! It'll really help to those who think girls are ITEM.. hope u understand tht wht #ARealMan is !!
Nikita Agarwal
Another amazing episode by #SatyamevJayate ... With yet another message ... Looking forward to look the change within us.
Gita Ojha
@StarPlus #SatyamevJayate finally realisation dawning upon the way we bring up our children. a better society isn't far away #mumkin hai
Shwta Sabnis
#SatyamevJayate...# A real man....good job amir...girls face issues at workplace...which are still unresolved....
Aashita
#ARealMan #SatyamevJayate Its time for a change,time for a men to change. Be A REAL MAN. Hope to see the change in our society.
Shobhna Khanna
#SatyamevJayate My dad always brought us 3 sisters up as equal to men and my husband has always treated me as equal to him. Thanks to both
Namita Ved
Kudos to #SatyamevJayate 4such an imp topic 2b dealt within India. Its time parents pay attn as to how they raise their male kids #ARealMan
Jessie
#SatyamevJayate great show which is able to spread awareness on serious issues that many people fray away from thank u #ARealMan
Manisha Yousuf
Great topic to talk about, and if they can really stop the making of such item songs that will be an achievment #ARealMan #SatyamevJayate
Aparnavram
I feel ashamed today by being a woman I have been enjoying the 'item'numbers. We need to change it.#satyamevjayate #mumkinhai #realman
Palak Khanna
A real man ain't a coward, he stands by what he says, admits his faults, & corrects his mistakes #ARealMan #SatyamevJayate
Alisha
What is happening now is that women have accepted defeat that they can never win over men and whatever a man does is right #SatyamevJayate. I dont even befriend guys who believe that women are inferior to men #ARealMan #SatyamevJayate
Malini Mehra
It's time for film industry to change way it portrays women and men. The debate has started - action must follow. #SatyamevJayate #ARealMan