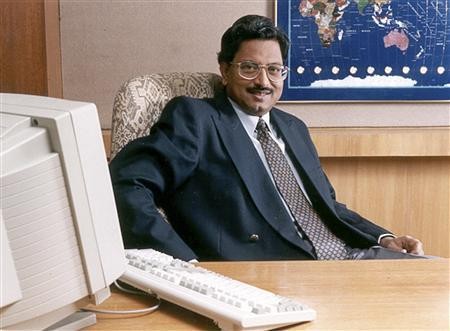 Satyam Computer Services' founder B Ramalinga Raju and four others have been banned by Sebi from markets for 14 years and have to pay up Rs 1,849 crore, owing to unlawful gains made through sale of shares.
The other four executives banned are B Rama Raju, former managing director, Vadlamani Srinivas, former chief financial officer, G Ramakrishna, former vice-president (finance), and VS Prabhakara Gupta, former head (internal audit).
The Securities and Exchange Board of India (Sebi) said on Tuesday that all of the five former executives have to pay a simple interest of 12 percent of the sum since 7 June 2009, within 45 days from the date of this order, according to a Mint report, which calculated that the the five of them have to pay at least Rs 2,958.29 crore to Sebi.
According to Sebi's order, Ramalinga Raju made Rs 543.93 crore as unlawful gain, Rama Raju Rs 1.258.88 crore, Srinivas Rs 29.5 crore and Ramakrishna made Rs 5.12 crore.
In June 2009, Raju resigned from the company, disclosing the truth of manipulating and falsely inflating the profits for years and sending its shares falling nearly 80 percent. He was arrested after the scam but now is out on bail.
Raju had accepted that the company's balance sheet as of 30 Sepetmber 2008 was fabricated. It showed a non-existent inflated cash and bank balance of Rs 5,040 crore, thus resulting in displaying a false balance that went up by Rs 588 crore for the quarter, reports the Economic Times.
After his acceptance, Sebi initiated its probe and detected financial mis-statements to the tune of nearly Rs 12,320 crore.
"It is to be kept in mind that financial statements are the yardstick that numerous stakeholders use to assess the financial health of a company. Falsified financial statements may lead to wrong assessments and flawed investment decisions," said Rajeev Kumar Agarwal , Sebi whole-time member, in the 65-page order.
The government then auctioned the company to protect the interest of investors and employees. According to the Hindustan Times, Tech Mahindra, part of Mahindra & Mahindra, won the auction and merged the company with itself, renaming Satyam Computer Services as Mahindra Satyam.
Here is a documentary on Satyam scam: