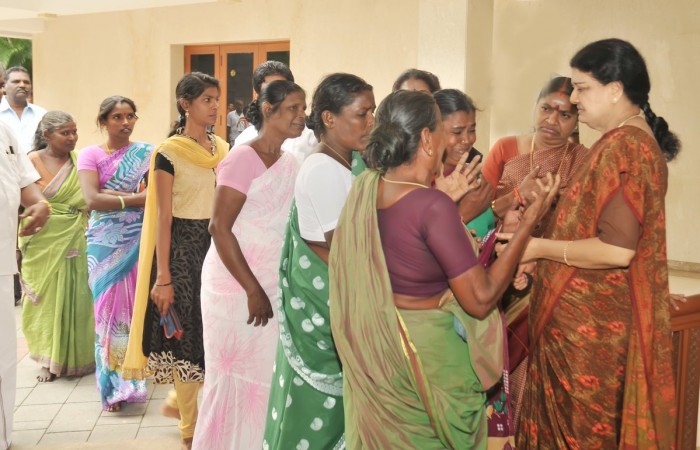 In what could be described as the logical culmination of days of debate over the leadership of the All India Anna Dravida Munnetra Kazhagam (AIADMK) following the death of party chief and former Tamil Nadu chief minister J Jayalalithaa, the party leaders have cleared the path for her close aide Sasikala Natarajan to don the political mantle.
Sasikala has been a close confidante of Jayalalithaa — also known as Amma — for years, and she and her family were even tipped to be the inheritors of property worth more than Rs 117 crore belonging to the former TN chief minister. Speculation that Sasikala would helm the AIADMK has also been rife for quite some time, and was only fuelled when she performed Amma's last rites.
Now, the AIADMK top brass has cleared the way for Sasikala's ascension to power within the party. The official Twitter handle of the AIADMK wrote on Thursday: "Senior functionaries of AIADMK urge Thirumathi Sasikala to lead the party on the path shown by Puratchi Thalaivi Amma. [sic]"
What this effectively means is that Sasikala, who has had little to no electoral experience, will head the AIADMK with the help of party officials. Whether she will test the electoral waters is still a question that only time will answer.
Who is Sasikala Natarajan?
The wife of a TN government public relations officer named Natarajan, Sasikala had been born to a Shaivite Kallar family in 1956. She was introduced to Jayalalithaa when Amma was the communications secretary of the AIADMK.
Over the years, they developed a close working and personal relationship, so much so that not only Sasikala, but her husband and his kin were given top posts in the AIADMK and subsequently the TN government when the party came to power.
However, Sasikala and all members of Natarajan and his family were expelled from the AIADMK for allegedly running a parallel government. Only Sasikala was allowed back in, and that too after she admitted in writing that she did not know of the goings on within the party.