As thousands of supporters gather at Rajaji Hall in Chennai to bid goodbye to their beloved chief minister J Jayalalithaa, there is only one dominating presence which can be seen standing near Amma's body -- her closest aide Sasikala Natarajan.
The former Tamil Nadu CM J Jayalalithaa passed away on December 5 at 11:30 PM after suffering a cardiac arrest the night before. While the devastated All India Anna Dravida Munnetra Kazhagam (AIADMK) Party handed over Tamil Nadu's charge to O Panneerselvam as the chief minister of the state, speculations were rife as to who will take charge of the party as the general secretary, now that Jayalalithaa is gone.
It is expected that Sasikala, who Amma referred to as her sister, will be named as the new general secretary of the AIADMK party. There are also speculations that she may also choose to name M Thambidurai as the party chief, but as always she will keep pulling the party strings from behind the scene.
Sasikala has always been Jayalalithaa's only trusted aide and stayed with her at Amma's Poes Garden residence. The duo met in the 1970s through IAS officer-turned-politician VS Chandralekha who had hired Sasikala's husband Natarajan as a public relations officer. Jayalalithaa, at the time, was a growing leader in the AIADMK party and Sasikala used to run a video store and record weddings attended by Amma. Soon both of them became close friends and Sasikala broke into Jayalalithaa's inner circles.
Right after the former state chief minister Marudur Gopalan Ramachandran (MGR) was hospitalised, Sasikala started taking charge of Jayalalithaa's house. Amma also adopted Sasikala's nephew Sudhakaran as her foster son and the duo (Saikala and Jayalalithaa) became so close that they began living in the party chief's house together.
Extravagant wedding
In September 1995, Jayalalithaa organised Sudhakaran's extravagant wedding splurging crores and using state government organisations to facilitate the wedding preparations required for 25,000 guests. Although this raised eyebrows everywhere, what was striking was the presence of Jayalalithaa and Sasikala dressed like twins in similar golden saris and expensive diamond jewellery. That moment marked to the world how close the duo had actually become.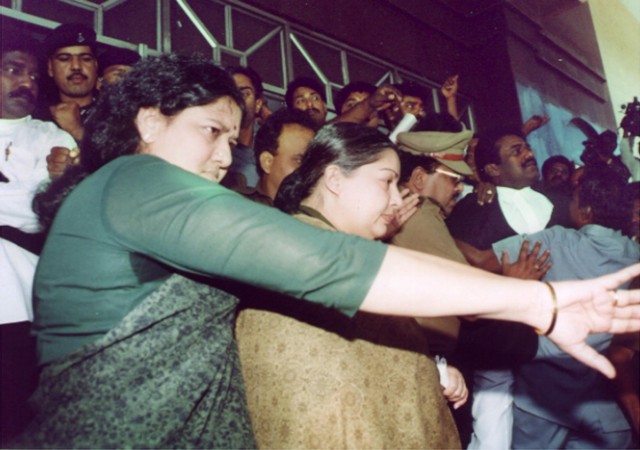 Corruption scandals
Sasikala reportedly began abusing her position of power owing to her close relationship with Jayalalithaa. In fact, she and her relatives got embroiled in several corruption scandals. Sasikala's entire family from Mannargudi was dubbed as "Mannargudi mafia." There were also rumours of Sasikala acquiring land in and around Chennai and Thanjavur, including movable and immovable property.
However, one of the biggest scandals she and subsequently, Jayalalithaa, got involved in was the Tansi land deal that led to the duo's conviction. The Crime-Branch Crime Investigation Department charged that in 1991-92, Chennai's Guindy industrial estate, belonging to Tamil Nadu Small Industries Corporation Limited, was bought by Jaya Publications and Sasi Enterprises — where Jayalalithaa and Sasikala were shareholders — at a price lower than the market price, which incurred a loss to the government. However, Jayalalithaa was later acquitted in the case.
Dissent in the party against Sasikala
Although Sasikala enjoyed a close relationship with Jayalalithaa (Jaya has called her a sister) and a celebrated position in the AIADMK party, there were many faithful Amma supporters who resented their relationship. There are still many in the party who believe that the corruption-tainted Sasikala would risk the party's position in the state.
Fallout
After years of close friendship, the duo had a fallout in 2011 when Jayalalithaa expelled Sasikala, Natarajan and 12 of her relatives from the AIADMK's primary membership for plotting against her. However, Sasikala disassociated with her family and all her relations to come back to Jayalalithaa. Subsequently, her expulsion lasted a mere 100 days or so before Sasikala officially joined the AIADMK in 2000 and became a member of its general council.
Sasikala continued to remain Jayalalithaa's closest ally till her death. She has been with her through her 75-day stay at the Apollo Hospital and is standing stoically at Rajaji Hall where Amma lies in state.