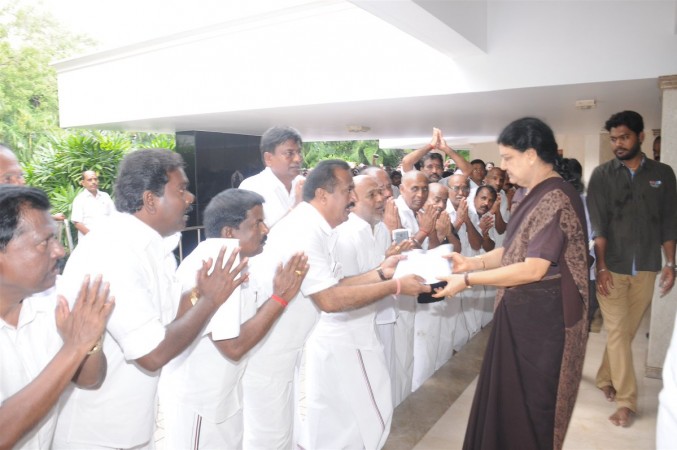 Sasikala Natarajan, close aide of former Tamil Nadu chief minister J Jayalalithaa, is expected to be elected general secretary of the All India Anna Dravida Munnetra Kazhagam (AIADMK) on Thursday, following in the footsteps of her political mentor. The move has been a long-expected one, with even top AIADMK members urging her to inherit the mantle Jayalalithaa had donned before her.
AIADMK spokesperson C Ponnaiyan said on Thursday using an honorific for Sasikala: "It is clear that Chinnamma will be the next general secretary of the party." He later added: "You can expect the official announcement on Chinnamma Sasikala being the next general secretary of the AIADMK soon."
The AIADMK official Twitter handle is replete with instances of party functionaries coming to Chennai to urge Sasikala to fill the void left behind by their "Puratchi Thalaivi Amma" — a moniker often used to refer to her by party workers and supporters. They and the party top brass clearly look all set to put Sasikala at the helm of the party.
What this also means is Sasikala, who has had little to no electoral experience, will need the help of party officials head the AIADMK. Whether she will test the electoral waters or not is a question that only time will answer.
Void left by Jayalalithaa's death
When J Jayalalithaa died late on December 5, she was still the chief minister of Tamil Nadu and the AIADMK chief. The former post has already been filled by her loyalist O Panneerselvam, who took oath barely hours after Jayalalithaa's death was announced. After all, he had filled in for her when she was unable to take office.
What remained was the post of the AIADMK chief. Since there was no leader who was clearly strong enough to inherit the mantle from Jayalalithaa, the consensus was that it should go to Sasikala, who Amma often referred to as her sister. That is what seems to be happening now.