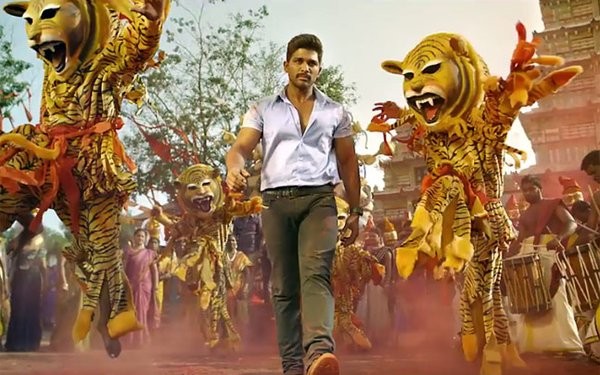 The audio album of Allu Arjun's "Sarrainodu" (Sarainodu) has received mixed reviews from music lovers and the songs like "Telusaa Telusaa" and "Athiloka Sundari" from the album are the picks of most of the audience.
"Sarrainodu" has six beautiful songs and music director Thaman Sivakumar has composed tunes for the soundtracks. Ramajogayya Sastry has written lyrics for three songs of the movie, while Ananth Sriram, Krishna Chaitanya and Sri Mani penned one track each. Lahari Music, which has bought its rights, released the album directly into the market April 1, without a formal audio launch function.
Lahari Music also released all the songs on its official YouTube channel on the same day. Some audience do not seem to be happy with S Thaman's work. They say he has repeated many tunes from his previous album and he lacks creativity in the album of "Sarrainodu."
At the same time, others seem impressed with all the songs of "Sarrainodu" and most of them say "Telusaa Telusaa" and "Athiloka Sundari" are their favourite songs from this album. Few music lovers shared their views on the music of the film on Twitter. Here is the "Sarrainodu" music review by audience:
Deepak ‏@deepuzoomout
It's been a long time since a Big movie album has lived up to the expectations, #Sarrainodu has exceeded the expectations @MusicThaman #TelusaaTelusaa & #Athilokasundari Man what a composition. Shraddhaga kadhu, e album kasi toh kottaru @MusicThaman Loop & Loop #Sarrainodu It's gonna be proved strongly once again, Why @alluarjun is the no1 dancer, when u watch him tapping for @MusicThaman's beats in #Sarrainodu
Sai Murali ‏@mksaimurali
@MusicThaman Superbbb songs #Sarainodu My favorite one #Titlesong Can't stop dancing for d beats Congrats Broo..
Bharath Kumar ‏@Bharath291Kumar
#Sarainodu Album is 1 of d the best Most Listenable Album (MLA)song superb, want to see appreciation from @arrahman to @MusicThaman
Vinay Goud ‏@mevinay4u
@MusicThaman can't stop hearing at #Sarainodu Private Party & Telusa Telusa. Superb composed.. Luv u r music till the End. #Rocking beats
Geetha Madhuri FC ‏@GeethaMadhuriFC
#Sarainodu #ThelusaThelusa song is awesome @MusicThaman It is beautifully sung by @sameerachavali and #ZubinNautiyal
Pavan kumar ‏@pavankumar1917
Athiloka sundari and telusa superb voices. loving vishal dadlani soulful voice.. thank you @MusicThaman for the album #sarainodu. Repeatmode
Proud Indian ‏@kalyan_proud
Wat a rocking album .@MusicThaman..u jus nailed it..on loop since release..#Sarrainodu ..#athilokaSundari ..... Superb.. @VishalDadlani U jus rocked #AthilokaSundari #Sarrainodu..u nailed it completely..#rocking....Rock on..
#Sarrainodu ‏@JESONabhi
@SonuKakkar WHAT A FABULOUS VOICE. PERFECT SYNC IN #Sarrainodu TITLE TRACK. @VishalDadlani SIR, YOUR UNIQUE VOICE GENERATED SPLENDID FEEL AND FRESHNESS IN "ATHILOKA SUNDARI" TRACK. #Sarrainodu
#Sarrainodu ‏@iamsairevanth
#Sarrainodu Audio my picks Athiloka sundari , mla, blockbuster, private party superb album Thank you @MusicThaman