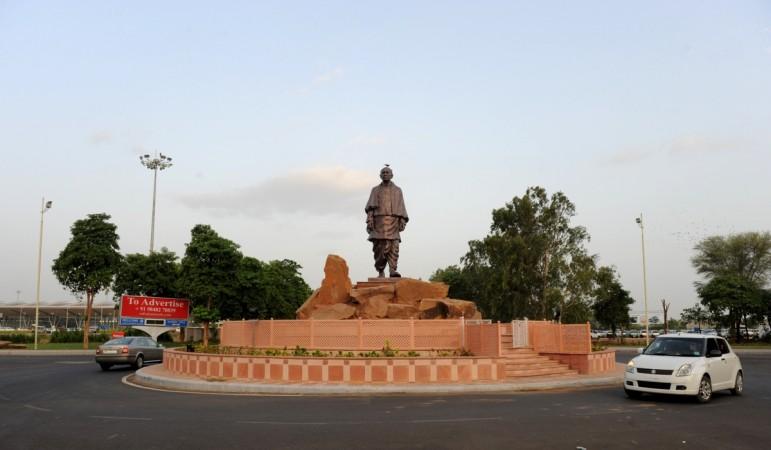 After a string of attacks on statues of political figures in the recent weeks, miscreants have now vandalized a statue of Sardar Vallabhbhai Patel and garlanded it with empty soft drink bottles in Gujarat.
The first deputy prime minister of India's statue was defiled at a library in Shertha village, Gandhinagar, Wednesday, March 22. The statue was unveiled by Bharatiya Janata Party leader LK Advani in October 1992.
An unknown person had garlanded statue of Sardar Vallabhbhai Patel with empty cold drink bottles & grass. Case registered & we're investigating the case: Girsh Pravin, PSO, Adalaj Police station on statue of Sardar Vallabhbhai Patel vandalised in Gandhinagar's Shertha #Gujarat pic.twitter.com/7iflPGFPb0

— ANI (@ANI) March 22, 2018
"We have sought CCTV footage from a bank which is in front of the library to identify the persons involved in this case," Adalaj police inspector JG Vaghela told The Times of India. Local police have now deployed personnel to stand guard near the statue.
Other statues vandalized this month
Vladimir Lenin's statue in Tripura - The recent spate of attacks had started when Lenin's statue in Tripura was allegedly razed by BJP supporters after their victory in the state elections.
BR Ambedkar's statue in Uttar Pradesh - A statue of Dalit icon Dr. BR Ambedkar was beheaded at Meerut in Uttar Pradesh March 7.
Periyar Ramasamy's statue in Tamil Nadu –The statue of the Dravidian leader was vandalized in Pudukottai district of Tamil Nadu, March 19. The accused was a CRPF personnel who was undergoing psychiatric treatment, PTI reported.
Syama Prasad Mukherjee's statue in Assam - A statue of the Bhartiya Jan Sangh founder was vandalized at Kokrajhar town in Assam March 7. The statue was damaged with hammer and stones.
Jawaharlal Nehru's statue in West Bengal - The statue of the first prime minister of India was defiled with black ink. The incident took place at East Burdwan district in Katwa, West Bengal.