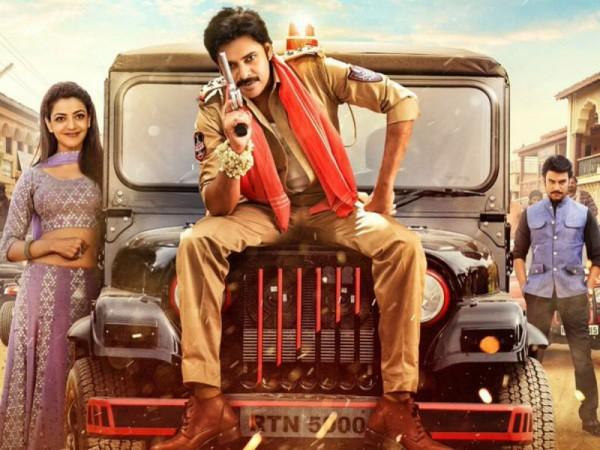 Power Star Pawan Kalyan's "Sardar Gabbar Singh" (Sardaar/SGS) has failed to live up to the expectations of critics, and has received mixed reviews and decent ratings from them.
"Sardar Gabbar Singh" is a sequel to the blockbuster action comedy film "Gabbar Singh," which was a remake of Salman Khan's "Dabangg." A few surprise elements, including an "Anthyakshari" song, had grabbed many eyeballs. The huge success of the film had created a lot of expectations from the sequel among critics, who were curiously waiting to see new magic in it.
Secondly, Pawan Kalyan, besides acting, has written the story, screenplay and dialogues for "Sardar Gabbar Singh," and also produced it jointly with Sharrath Marar. These aspects had doubled the hype and expectations from the movie, which was released in cinema halls around the world April 8.
Critics say "Sardar Gabbar Singh" is a routine and predictable action masala entertianer. The movie is about happy-go-lucky cop Gabbar Singh (Pawan Kalyan), who is transferred to Ratanpur, which is suffering from the evil deeds of Bhairav Singh (Sharad Kelkar). How the cop sets things right in the city forms the story.
Critics say "Sardar Gabbar Singh" has nothing big to boast about in terms of the story. But it is the screenplay with masala elements that keep the audience engaged throughout the film. Pawan Kalyan is a showman and the biggest saving grace of the movie. Kajal's glamour, Sharad and others' acting, music, action, comedy, dialogues, picturisation and art directions are some of the highlights of the film.
"Sardar Gabbar Singh" has been rated an average 2.7 out of 5 stars. We bring you some critics' verdict and ratings for the film. Continue to see the same in the "Sardar Gabbar Singh" review roundup:
The rise of Sardaar in this lawless town and how he wins hearts and locks horns with enemies is narrated with a lot of style. He can be deceptively amusing, even silly, before pulling off a surprise. The salon is his adda and a few underdogs in the town, his faithful allies. Some of the action sequences are good and Pawan Kalyan's trademark histrionics comes to the fore.
Pawan's one-man show. For those of you looking for him to do non-heroic comedy in khaki, this film has much stuff on platter.
"Sardaar Gabbar Singh" will surely go well with all Pawan Kalyan fans. Right from the word go, it is Pawan's solid screen presence and energetic performance that will bind you completely. Impressive first half and some stylish thrills are basic assets. But a weak story line, lengthy run time and a dragged out second half spoil the fun to an extent and make this film exclusive for fans only.
Sardaar Gabbar Singh has Actions, Heroism, Love, Emotion, Sympathy and all other elements needed for a successful movie only problems is that these elements failed to produce needed AURA all put together. "Sardaar Gabbar Singh" has its moments but half of Gabbar Singh only.
There is no strong conflict and there is no depth in the emotions which will make Sardaar Gabbar Singh a tedious watch after the first hour. This film doesn't even have a blockbuster audio or something that seems paisa vasool except for Pawan's mannerisms. It is a film made for fans and it may appeal to the hardcore fans of Power star. "Sardaar Gabbar Singh" will put the patience to test for others. This is definitely not a film that deserves all this hype and hoopla. Keep your expectations in check.