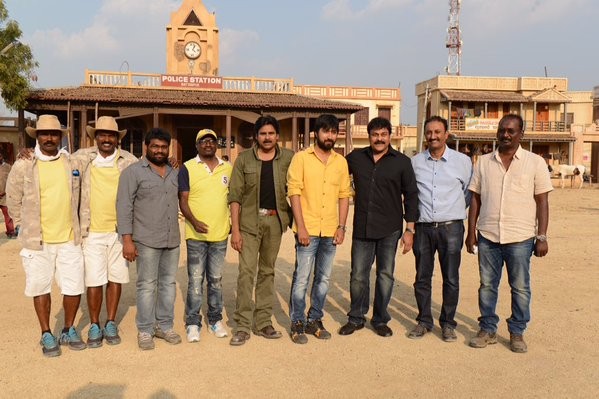 The makers of "Sardar Gabbar Singh" (Sardaar/SGS), which has turned a failure at the box office, were in for a shock when one of its sets caught fire on Saturday afternoon. But the workers reportedly escaped unhurt in the incident.
Everyone knows that the art work is one of the attractions of "Sardar Gabbar Singh." The producers have spent crores of rupees together on the creation of a special village set for the shooting of the movie. Art director Anand Sai is the man behind the erection of the beautiful set of imaginary village Ratnapur. The set was erected at 'Booth Bangla 'premises on Road no 25 Jubilee Hills in Hyderabad.
The makers decided to get this set dismantled, weeks after the release of "Sardar Gabbar Singh." On Saturday, the unit members were busy with this work. Few workers were busy with wielding works when the fire engulfed the sets. The fire department was informed immediately and the team was successful in controlling the fire. No casualties were reported.
Sources from the film unit claim that the set of Ratnapur was abandoned after the shooting of "Sardar Gabbar Singh." The set caught fire due to short circuit on the premises. The flames spread all over the set within minutes due to the scorching sun. The fire accident has incurred huge loss of property for its makers.
"Sardar Gabbar Singh" was released in theatres on April 8, amidst huge hype and expectations. The movie, which had good advance booking, got massive opening at the worldwide box office. But the word of mouth took a toll on its business on the following days. The film has ended up as the biggest disaster of 2016.
The Pawan Kalyan and Kajal Aggarwal-starrer was made with a whopping budget of Rs. 75 crore and its theatrical rights were sold for a record price of Rs. 87.20 crore. "Sardar Gabbar Singh" has recovered over 70 percent of the investments to its distributors, who are reportedly worried over losing out the remaining 30 percent of their money.