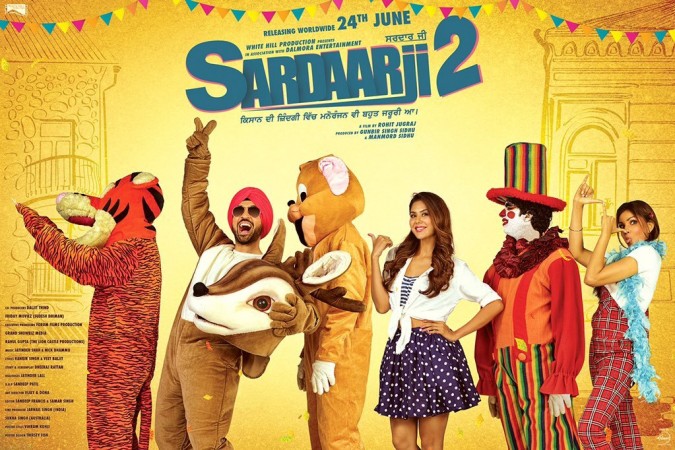 Director Rohit Jugraj's Punjabi movie "Sardaar Ji 2," featuring Diljit Dosanjh, Sonam Bajwa and Monica Gill in lead roles, has received positive reviews from the audience, who are all praises for the hero.
"Sardaar Ji" was a blockbuster hit at the box office and its success encouraged its maker to do a sequel, which was initially titled The Return of Sardaarji, but later changed to "Sardaar Ji 2." Dheeraj Rattan, who had written the script for the original, has once again penned the story and screenplay for its sequel.
"Sardaar Ji 2" revolves around the story of organic farmer Jaggi (Diljit Dosanjh), who leads a simple life at a village in Punjab. When his village lands in deep trouble, Jaggi travels to Australia to earn money to save his village. His quest to earn money quickly turns into a wild ride when he starts driving a beautiful ice cream truck which is chased by goons. What happens next forms the crux of the story.
The viewers say "Sardaar Ji 2" has an interesting story and engrossing screenplay. Diljit Dosanjh has delivered superb performance, which is the main highlight of "Sardaar Ji 2." Monica Gill, Sonam Bajwa, Yashpal Sharma, Jaswinder Bhalla, Dev Gill and Mandy Takhar have done justice to their roles. Their performances are also among the big assets of the movie, say viewers.
"Sardaar Ji 2" has been produced by Manmord Sidhu and Gunbir Singh Sidhu under the banner White Hill Production. The makers have made sure the movie has rich production elements. Jatinder Shah and Nick Dhammu's music and Sandip Patil's cinematography are the big attractions on the technical front, add the audience.
Many viewers took to their Twitter handles to share their verdict on the film. We bring you some unique comments. Here is the live update of the "Sardaarji 2" movie review by audience:
Vivek Ahuja ‏@VivekAhuja08
@diljitdosanjh jst watched ur #Sardaarji2 awesome movie nd also a very important msg has been given by uh to the farmers of our country....
Falgun patel ‏@imfc1497
What a performance....really u deserve a high place in audience heart.... punjab da ser ...@diljitdosanjh #Sardaarji2 ☺☺☺☺
RahulRS ‏@RahulRS0029
@diljitdosanjh seen #Sardaarji2 today!! Awesome movie!! Full of comedy!!
Amrit Aulakh ‏@amritaolakh22
Watched #SardaarJi2 One of the best performance by @diljitdosanjh veer Sadi city ch housefull aw movie 4.5/5 apne valo ta buuurrahhh
♥KAMAL♥ ‏@crazykamal786
Again you rock with #SardarJi2 @diljitdosanjh You just nailed it bro.., #StayBlessed.. Waheguru mehr krn✌
Kiran ‏@Kinudeol
@diljitdosanjh awesome movie ❤️ just watchd 1st show and ready to watch it again soon haha lol loved this tu kamla aa hilya aa wow
KAJAL CHIB ‏@ChibKajal
#sardaarji2 awesome movie, paaji tussi ik vari hor chhaa gye. p.s. I never miss any of your movie. I loooooooove you @diljitdosanjh
Kajal Thakur ‏@iamkajalthakur
Watched #Sardaarji2 today.. Such a fantabulous story.. Kudos @diljitdosanjh n team!! ;)
Simran Arora ‏@IamSimranArora
It's always so much fun watching you @diljitdosanjh Love youu #Sardaarji2 Movie
Aryan Raheja ‏@aryanraheja
@diljitdosanjh wowww..!! Maza aa gya aaj to #Sardaarji2 dekh k #jaggi ji jo umeede thi aapse fans ko aapke Usse bhi badhiya wrk kia aapne