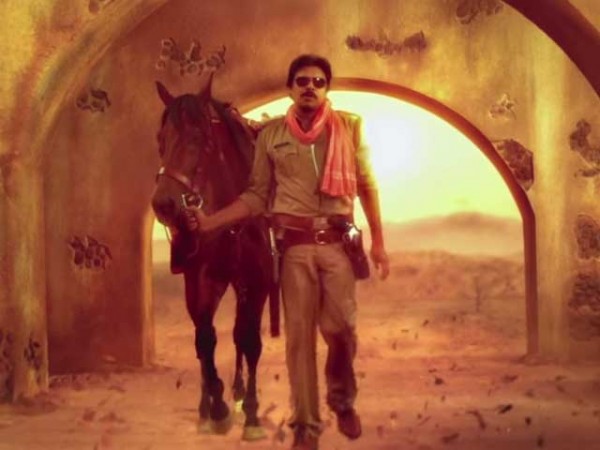 The theatrical trailer of Power Star Pawan Kalyan's "Sardaar Gabbar Singh" (SGS), which was released during the audio launch of the movie, has received mixed response from the audience, who are apparently not happy with the 2.30-minute video.
Besides playing the lead role, Pawan Kalyan has also written the story, screenplay and dialogues for "Sardaar Gabbar Singh", which is set in the backdrop of a fictitious town of Rattanpur. The trailer of the film begins with the atrocities of ruthless feudal lord Bhairav Singh (Sharad Kelkar), who is the coal mafia don in the area.
It introduces a helpless princess (Kajal Aggarwal) from a royal family, who is entangled between her love for Sardaar and the evilness of Bhairav Singh. Maverick cop Sardaar Gabbar Singh (Pawan Kalyan) comes to Rattanpur and how he takes on Bhairav and becomes the savoir for the people of Rattanpur forms the crux of the story.
The trailer offers a hint at the story of "Sardaar Gabbar Singh," which is apparently routine and predictable. But the video shows that its screenplay with all masala elements like action, romance and comedy is going to be very interesting and engaging. It also provides a couple of hints of the punch dialogues in the movie.
As per its trailer, "Sardaar Gabbar Singh" has rich production elements. Devi Sri Prasad's songs and background score, Arthur A Wilson's beautiful picturisation, brilliant choreography of action and dance, amazing art direction, beautiful costumes and locales are going to be among the highlights of the film.
Many viewers are disappointed with the way the traler of "Sardaar Gabbar Singh" has been edited. Some say the trailer reveals the entire story and the conflict in just 2:30 minutes, while others feel it focuses more on the villain than the hero of the film.
We bring to you some viewers' views on its trailer shared on Twitter. Here is the "Sardaar Gabbar Singh" trailer review by audience:
Haricharan Pudipeddi ‏@pudiharicharan
Loved #SardaarGabbarSingh teaser, but the trailer not so much. Heavy #Kick2 hangover.
VamsiKaka ‏@vamsikaka
Looks like a One-Man Show by Pawan Kalyan. Trailer bagundhi. #SardaarGabbarSingh
SaiDharamTejfan ‏@SaiDharamTejfan
#SardaarGabbarSingh theatrical trailer review: Excellent cut by director. Made everyone curious about the story line. Full marks. 4/5.
Srinivas D ‏@srinidurvasula
#SardaarGabbarSingh #trailer is missing expectations. It reminded #kick2 but hope #pawankalyan will give huge hit. #devisri disappointed
Karthik ‏@kaarthiiik
#SardaarGabbarSingh trailer looks different. Narration is interesting. Reducing the hype by revealing the story line.
KARTHICK ‏@KarthickS_31
Just now watched #SardaarGabbarSingh trailer really superb one.. Can't wait for #SummerFest ☺ #KajalAggarwal looking cute gorgeous
Jeevan Kalyan ‏@jeevankalyanzz
#SardaarGabbarSingh Songs are Amazing,Fantastic Music Again by DSP. Trailer Looking Superb,Energetic..!
Pradeep CR7 ‏@reddy777777
#SardaarGabbarSingh trailer as usual pspk trademark but this time coming with a bit energy n extraordinary.. #jaipawanism #jaipk
Pokiri ‏@shasha1495
#SardaarGabbarSingh trailer is okaybut Pawan mannerismsI guess that is the only saving grace n of course #KajalAggarwal as always
KadakChai420 ‏@JusChaudhary
highly disappointed with #SardaarGabbarSingh trailer !! a tyrant ruler with a helpless princess & tortured public, pawan saves them all :-( #SardaarGabbarSingh story as seen from trailer is very highly disappointing ! only music, screenplay, comedy can save this movie !
Trick-ster ‏@Vijay_YD
A Very Avg trailer cut #SardaarGabbarSingh. Rather than revealing entire plot, they could have cut hero character & mannerisms more..
Sachinzoozoo ‏@sachinrowdy
#SardaarGabbarSingh trailer more focusses on villain.. That is the BEST thing.. Heroism of @PawanKalyan is suspense
Prasad Babu Yedla ‏@URS_PRASAD
Very much happy by the way #SardaarGabbarSingh Trailer was cut. I c it as intelligent mve to content d ever increasng Everest Expectations
Maverick ‏@SujayMaverick
Although trailer disappointed I hope Sgs will be a different film with all commercial elements rightly placed. #SardaarGabbarSingh
Srikanth ‏@saitelugumovies
#SardaarGabbarSingh Trailer disappointing big time and looks like 1980 movie. For the first time a villain dominating hero in PK film.