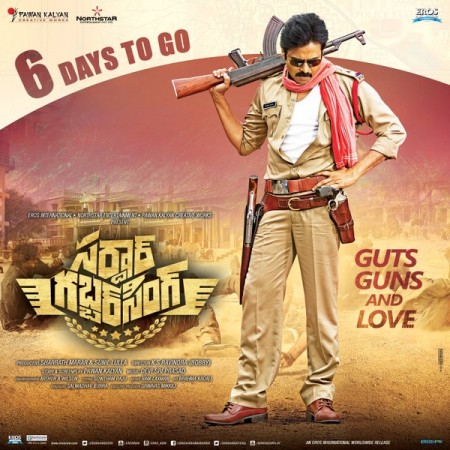 Director Bobby's "Sardaar Gabbar Singh," which is made with a tagline – "Guts, Guns and Love" – showcases Power Star Pawan Kalyan's favourite fire arms like guns and rifles.
Check: Sardaar Gabbar Singh Stills | 5 Reasons to Watch SGS | Chiru at SGS Audio Launch
"Sardaar Gabbar Singh" is scheduled to be released in theatres around the world April 8. The makers of the film have released some posters and videos of the movie as part of its promotion. One thing that strikes in these promos is Pawan Kalyan flaunting an array of fire arms like AK 47, .44 Magnums, shotguns and rifles. Sources claim that those weapons are the favourites of the actor.
Pawan Kalyan's love for guns seems to be influenced by Hollywood movies. "Kalyan babu is highly influenced by western movies, and particularly yesteryear Hollywood star Steve McQueen's actioners. The Mare's Leg that was used by a character in McQueen's iconic series Wanted: Dead or Alive, has been used in this movie only because he wanted it," a source told the Times of India.
The source claims that Pawan Kalyan himself has monitored the designing of the weapons used in "Sardaar Gabbar Singh." "He got gunsmiths to make replicas that look as real as possible. Pawan's attention to detail was surprising. He was even particular about the sound made when the gun is fired. Special made-to-order holsters and saddles were imported from Australia," the source said.
"Sardaar Gabbar Singh" features a variety of guns and the film unit has put in a lot of effort in producing those weapons for the film. "For a fight sequence, we had to produce some 700 guns. Locking in on the design and manufacturing all of them took us 15 days. They were made of lightweight metal and thermocol," the source added.
"Sardaar Gabbar Singh" is an action entertainer and Ram-Lakshman have choreographed the fight sequences of the film. The use of weapons will be one of the attractions of the movie. "One of the highlights in the film is a Leg Rifle. Yet another favourite of the Power Star is a short barrel 12 base shotgun, The Lupara, a favourite weapon of the Sicilian mafia," the source told.
"Sardaar Gabbar Singh" is produced with a whopping amount of Rs. 70 crore by Pawan Kalyan, Sharrath Marar and Sunil Lulla. Pawan Kalyan is seen playing Gabbar Singh, while Kajal Aggarwal and Sharad Kelkar essay important roles in the movie. Devi Sri Prasad has composed the music for the songs and background score and Arthur A Wilson has cranked the camera for the film.
Here are some photos featuring Pawan Kalyan flaunting fire arms in "Sardaar Gabbar Singh."