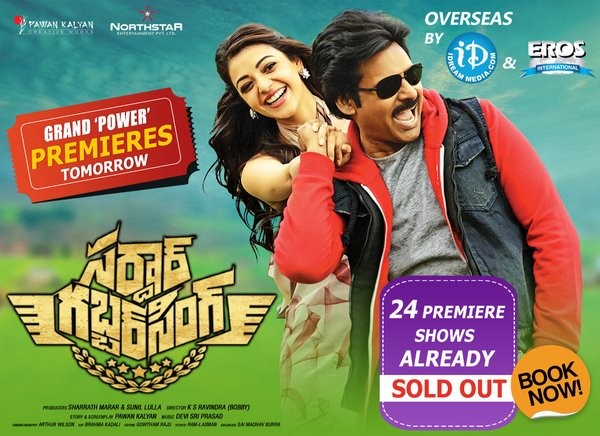 "Sardaar Gabbar Singh" (Sardaar/SGS), which opened to earth-shattering response, has witnessed a steep decline in its collection at the Andhra Pradesh and Telangana (AP/T) box office on its second day.
Riding high on hype and promotions, "Sardaar Gabbar Singh" was released in over 1,000 screens across the two Telugu states Friday and got an overwhelming response. The Pawan Kalyan-Kajal Aggarwal-starrer collected Rs 26.90 crore gross at the AP/T box office on the first day and its distributors' share stood at Rs 20.92 crore. It was the second-biggest-opener of all time after "Bahubali."
The Bobby-directed action masala film had very good advance booking for Saturday and it was expected to do well. But the movie showed an over 70 percent decline when compared to its opening-day collection. The mixed word-of-mouth apparently took a toll on its business. Unlike Friday, the movie did not have any extra shows in early morning Saturday.
"Sardaar Gabbar Singh" is estimated to have grossed over Rs 7 crore on its second day at the AP/T box office, taking its two-day gross to Rs 34 crore. The movie has added Rs 5.5 crore to the two-day-distributors' share of Rs 26.42 crore. It has returned around 40 percent of the investments to the AP/T distributors, who had shelled out Rs 61 crore on its theatrical rights.
Here are the investments and shares of the "Sardaar Gabbar Singh" distributors' of various regions of the Telugu states and these are estimated numbers and they may not match with the actual figures released by the makers.
| | | | | |
| --- | --- | --- | --- | --- |
| Area | Distributors | Rights Price | Day 1 | Day 2 |
| Nizam | Indra Films | Rs 21 crore | Rs 5.03 crore | Rs 2.11 crore |
| Ceeded | Narasimha Prasad | Rs 10.50 crore | Rs 4.10 crore | Rs 1.10 crore |
| Vizag | Kanthi Krishna | Rs 7.20 crore | Rs 2.01 crore | Rs 0.66 crore |
| G East | Anusri Films | Rs 5.40 crore | Rs 2.26 crore | Rs 0.43 crore |
| G West | Shanmuka Films | Rs 4.40 crore | Rs 2.70 crore | Rs 0.25 crore |
| Krishna | Tollywood Creations | Rs 4.30 crore | Rs 1.51 crore | Rs 0.37 crore |
| Guntur | SV Cinemas | Rs 5.50 crore | Rs 2.46 crore | Rs 0.38 crore |
| Nellore | SLNS Pictures | Rs 2.7 crore | Rs 0.85 crore | Rs 0.20 crore |
| APT Total | | Rs 61 crore | Rs 20.92 crore | Rs 5.50 crore |