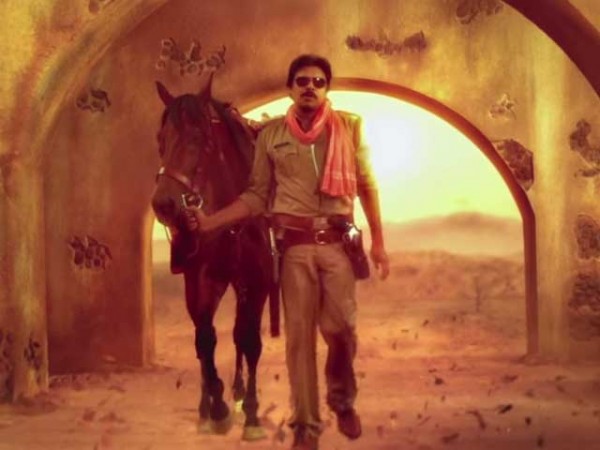 Power Star Pawan Kalyan has unleashed the making video of "Sardaar Gabbar Singh" (SGS), which has raised expectations of the Mega family fans about the much-hyped movie.
The video was released Saturday night on the official YouTube channel of North Star Entertainment Pvt Ltd. The 41-second footage has got over 200,000 views, 13,000+ thumbs up (likes) and 660+ comments, most of which are positive response for the clip, in 12 hours.
The video offers a glimpse of the beautiful art direction, gorgeous sets, guns and bikes and Pawan Kalyan's stylish way of handling them. The video also drops a hint at the role played by actress Kajal Aggarwal. It also shows the shooting of an action scene.
Many viewers have fallen in love with the footage, and seem unable to stop raving it. Some say they get goosebumps watching it, while others say they cannot wait for its audio launch and theatrical release. Here are some comments from YouTube that best show the excitement of the audience.
Solomon Geddam: His Style ( 0:03), His Smile (0:37), His fight (0:33), His walk (0:32), His Laugh (0:35), His Charm (Everywhere). aaaaaaah What Not, It's a PowerPack Treat!!
Sai Yadav: watching making video getting goosebumps awesome we are waiting for boxoffice sunami
Yenreddy Rohit Reddy: keka asalu.......... hat scene power star expression arupulu....eagerly waiting for powerful speech in the audio release by power star
Mahesh Jallepalli: Goosebumps fr making video itself. Imagine how the mve is gng to be.. power start cinema ki vache craze ye verappa.
PARTHU: Making video is awesome, specially that scene in cow boy
The makers of "Sardaar Gabbar Singh" have completed most of its shooting and are now gearing up to release its music. The grand audio launch of the movie is rumoured to be held at Gachibowli stadium or Nizam College grounds March 18. The film is scheduled to be released April 8.