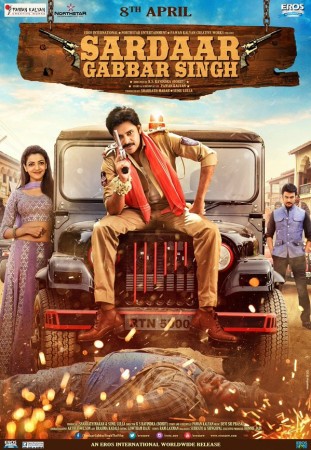 "Sardaar Gabbar Singh" (Sardar/SGS), which is slated to release in theatres April 8, has landed in trouble, with Bollywood superstar Salman Khan's brother Arbaaz Khan sending Power Star Pawan Kalyan a legal notice.
The makers of "Sardaar Gabbar Singh" recently released its trailer online. Arbaaz Khan, who watched the video, found some similarities between his directorial venture "Dabangg 2" and the Telugu movie. He reportedly tried to contact the team of Pawan Kalyan and get a clarification on the similarities.
Arbaaz Khan reportedly tried to sort out matters with Pawan Kalyan amicably, but apparently did not receive an appropriate response. Hence, the Bollywood actor-turned-director decided to take legal action against the makers of "Sardaar Gabbar Singh," according to a Bollywood Hungama report.
Pawan Kalyan's blockbuster "Gabbar Singh" was a remake of Salman Khan's hit Bollywood movie "Dabangg". Producer Bandla Ganesh Babu had officially bought its Telugu remake rights. Pawan Kalyan said its sequel "Sardaar Gabbar Singh" would not be the remake of "Dabangg 2," as he decided to create his own original script for the second instalment.
Pawan Kalyan himself has written the story, screenplay and dialogues for "Sardaar Gabbar Singh," which is directed by Bobby aka KS Ravindra. The makers of the movie released its trailer March 20 and the video offered a clear hint at the story and details of all characters. Its plot has received mixed response from the audience.
As per the trailer, "Sardaar Gabbar Singh" is set in the backdrop of the fictitious town of Rattanpur. The trailer begins with the atrocities committed by ruthless feudal lord Bhairav Singh (Sharad Kelkar), who runs coal mafia in the area. Princess (Kajal Aggarwal) is entangled between her love for Sardaar (Pawan Kalyan) and Bhairav Singh. The rest of the movie is all about how Sardaar turns the saviour of the people of Rattanpur.
Apparently, there are no similarities in the story outlines of "Sardaar Gabbar Singh" and "Dabangg 2." However, it is not clear what similarities Arbaaz Khan saw, as the contents of the legal notice he has sent are still under wraps. Pawan Kalyan, who is also one of the producers of the movie, is yet comment on the issue.