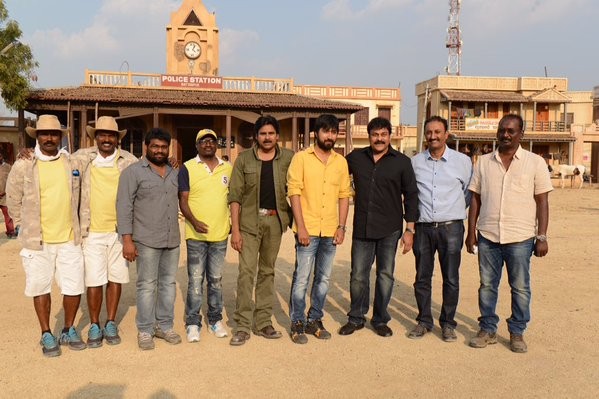 Power star Pawan Kalyan and director Bobby aka KS Ravindra, who are busy promoting "Sardar Gabbar Singh" (Sardaar/SGS), have spilled the beans on the fictitious village Ratanpur featured in the movie.
Check: Sardaar Gabbar Singh Stills | 5 Reasons to Watch SGS | Chiru at SGS Audio Launch
"Sardar Gabbar Singh" is an action thriller with a good dose of comic relief. The story of the movie takes place in Ratanpur, which is an imaginary village situated between Telangana, Orissa and Chattisgarh. The makers have shelled out a hefty sum on erecting sets for this imaginary village. Its trailer shows that the amazing sets of the village will be one of the highlights of the film.
Pawan Kalyan says he has visited the real Ratanpur. "Ratanpur, where this film is based, does exist. Before I entered films, I had been there. At that time, it was a part of Madhya Pradesh and not Chattisgarh as it is now. I fell in love with it and over the years it has stayed in my memory. I just like the cultural fusion that it offers," the Times of India quoted the power star as saying.
Besides acting and producing it, Pawan Kalyan has also written the story, screenplay and dialogue for "Sardar Gabbar Singh." Bobby says the actor has done a lot of research on every minute detail related to Ratanpur. Art director Brahma Kadali has tried his best in executing his ideas through his sets.
"By the time shooting was scheduled to begin, Kalyan garu had researched on how to get even the most intricate details about the town right. He went into creating a culture, lifestyle, and lingo for the people of the imaginary Rattanpur. He even had the texture of the soil figured out!" Bobby told TOI.
Ratanpur is situated amidst three states and Pawan Kalyan wanted it to reflect the cultural heritage of those states. He consciously had this in his mind while writing the script. "What would happen if a boy from one of these places falls for a girl from one of the neighbouring areas? This got me thinking," Pawan Kalyan said.
"Sardar Gabbar Singh" is also dubbed in Hindi and will be released on the same date of the Telugu film. The director says the concept of Ratanpur will impress both North and South Indian audience. "The culture is a mix of Northern and Southern nativities being on the border of the three states. It will be relevant for both Hindi and Telugu audience," Bobby said.