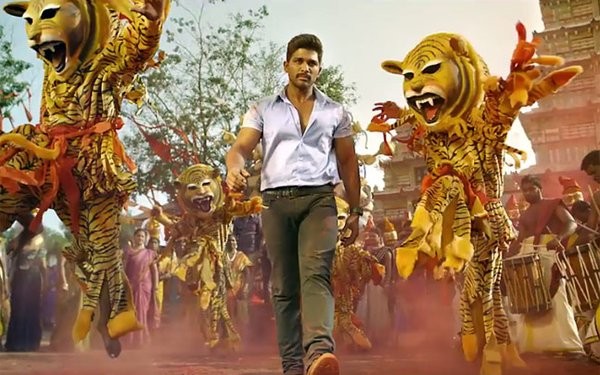 Allu Arjun's "Sarainodu" (Sarrainodu) has continued its dream run at the worldwide box office in the second week. The film is fast heading towards to the Rs. 100-crore mark.
"Sarainodu" collected Rs. 72 crore at the worldwide box office in the first week and it earned Rs. 45.72 crore to its distributors. Trade analysts predicted that its rocking run would be halted by new releases like "Raja Cheyyi Vesthe," "Bhadram Be Careful Brotheru" and "Mass," which would force it out of many cinema halls in its second week.
As predicted, "Sarainodu" did suffer setback at the ticket counters due to the new Telugu releases, but the drop was not sizeable. The movie has done fantastic business in Andhra Pradesh and Telangana. When compared to its collection in the opening week, the movie witnessed around 50 percent decline in its business in these areas in its second weekend.
The Boyapati Srinu-directed action thriller has done good business in Karnataka and other parts of India. But its collection has hit the rock-bottom in the key international markets. "Sarainodu" has collected approximately Rs. 12 crore gross at the worldwide box office in its second weekend and it has fetched Rs. 8.61 crore to its distributors.
"Sarainodu" has collected Rs. 84 crore gross at the worldwide box office in 10 days and its global distributors' share stands at Rs 54.33 crore. The movie has smashed the record of "Sardar Gabbar Singh," which grossed Rs 79.25 crore (Rs 50.06) in 10 days. The film has also shattered the life-time record of Junior NTR's "Nannaku Prematho."
"Sarrainodu" has become the biggest Tollywood money spinner at the box office this summer. With this film, Allu Arjun has scored his third consecutive blockbuster film during summer after "Race Gurram" and "S/o Satyamurthy." It is all set to become the first Rs 100 crore grossing film for Bunny.
Its global theatrical rights were sold for Rs. 53.40 crore to various distributors. The movie has recovered 100 percent investments to most of the distributors and also earned good profit share to them in 10 days. However, the film is yet to recover the investments of its international distributors.
Here are the details of the price of its theatrical rights and the area-wise breakup of the 10-day collection of "Sarainodu:"
Area
Distributor
Theatrical Rights
Total Share
Nizam
Geetha Arts
Rs. 12 crore (Valuation)
Rs. 13.97 crore
Ceeded
NV Prasad
Rs. 8.10 crore
Rs. 8.18 crore
Vizag
Kanthi Krishna
Rs. 4.90 crore
Rs. 5.40 crore
G East
Geetha Arts
Rs. 9 crore
Rs. 3.53 crore
G West
Rs. 3.10 crore
Krishna
Rs. 2.84 crore
Guntur
V Celluloids
Rs. 6 crore
Rs. 3.87 crore
Nellore
Rs. 1.64 crore
Karnataka
KCP & Brunda
Rs. 6 crore
Rs. 6.50 crore
Rest of India
Various
Rs. 1.20 crore
Rs. 1.40 crore
Overseas
Classics
Rs. 6.20 crore
Rs. 3.90 crore
Global Total
---
Rs. 53.40 crore
Rs. 54.33 crore