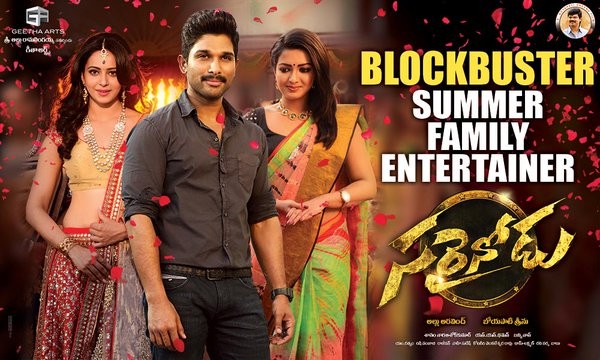 Allu Arjun's "Sarainodu" (Sarrainodu) has taken its collection share closer to the Rs. 50-crore mark at the Andhra Pradesh and Telangana (AP/T) box office in 14 days. But it has failed to beat the two-week business record of "Srimanthudu."
"Sarianodu" was released in 950 screens across 875 locations in Andhra Pradesh and Telangana on April 22. The movie opened to massive response and became the biggest opener for Allu Arjun. Despite getting mixed feedback from the audience, the film fared well on the following days and collected Rs. 50 crore gross at the AP/T box office in the first week. It earned Rs. 34.88 crore for its distributors in seven days.
The Allu Arjun and Rakul Preet Singh-starrer faced a big threat from new releases like "Bhadram Be Careful Brotheru," "Raja Cheyyi Vesthe" and "Mass," which snatched some screens from it. When compared to its opening week, "Sarianodu" witnessed over 60 percent drop in its collection in its second week, but its business was better than that of many recent big-ticket releases.
In its second week, "Sarianodu" has collected approximately Rs. 15 crore gross at the AP/T box office, taking its 14-day gross total to Rs. 65 crore. The movie has added Rs. 13.29 crore to the total share of its distributors — which now stands at Rs. 48.26 crore. The film has failed to beat the two-week record of "Srimanthudu," which earned Rs. 49.98 crore to its distributors in two weeks.
Allu Arjun's previous releases, "Race Gurram" and "S/o Satyamurthy," had collected Rs. 45.35 crore and Rs. 37.65 crore, respectively, at the AP/T box office in their lifetime. Now, "Sarianodu" has shattered their lifetime records in just two weeks and become the highest grosser film for Bunny.
Here is the area-wise break-up of the 14-day collection of "Sarianodu:"
| | | | |
| --- | --- | --- | --- |
| Area | Week 1 | Week 2 | Total Share |
| Nizam | Rs. 11.36 crore | Rs. 4.36 crore | Rs. 15.72 crore |
| Ceeded | Rs. 6.80 crore | Rs. 2.37 crore | Rs. 9.17 crore |
| Vizag | Rs. 4.43 crore | Rs. 1.82 crore | Rs. 6.25 crore |
| G East | Rs. 2.90 crore | Rs. 1.20 crore | Rs. 4.10 crore |
| G West | Rs. 2.60 crore | Rs. 0.91 crore | Rs. 3.51 crore |
| Krishna | Rs. 2.28 crore | Rs. 0.95 crore | Rs. 3.23 crore |
| Guntur | Rs. 3.24 crore | Rs. 1.15 crore | Rs. 4.39 crore |
| Nellore | Rs. 1.36 crore | Rs. 0.53 crore | Rs. 1.89 crore |
| Total | Rs. 34.97 crore | Rs. 13.29 crore | Rs. 48.26 crore |
[1 lakh = 100,000 | 1 crore = 10 million | 100 crore = 1 billion]