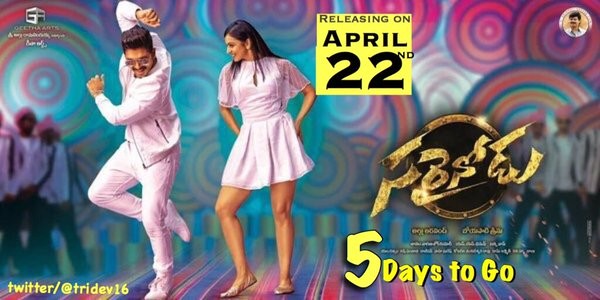 Stylish star Allu Arjun and Rakul Preet Singh's "Sarainodu" (Sarrainodu), which has been written and directed by Boyapati Srinu, has received mixed reviews and good ratings from critics.
"Sarainodu" is an action masala entertainer that revolves around the story of ex-military officer Gana (Allu Arjun). Gana spends his leisurely hours doing social service and he is in love with MLA Hansitha Reddy (Catherine Tresa). When he tries to save Maha Lakshmi (Rakul Preet), he lands in a problem with Vairam Dhanush (Aadi Pinisetty), who wants to grab the poor people's land to set up an oil company. How Gana fights against Dhanush's injustice forms the crux of the story.
Critics say "Sarainodu" has a done-to-death story that has been brought on screens several times in Telugu in the past. But the director has added some twists and masala elements to its screenplay to make the film an interesting watch. The first half is entertaining and the interval bang gives an adrenaline rush to the viewers. But the second half is very slow and predictable.
The biggest highlight of "Sarainodu" is Allu Arjun's energetic performance, say critics. Boyapati Sreenu showcased Bunny in a complete makeover. The actor has shed his lover boy image and transformed himself into an angry young man with this movie. His hard work is clearly visible in his dialogue delivery, mannerisms, dance and fights.
Aadi Pinisetty's performance is another big attraction of "Sarainodu." Rakul and Catherine have also delivered their best and Brahmi's comedy is good in parts as well. The movie has rich production values and background score, picturisation and action sequences are the attraction on the technical front, add critics.
"Sarainodu" has been rated an average of 2.62 out of 5 stars. We bring you some critics' verdict and ratings for the movie. Continue to see them in the "Sarainodu" review round-up:
The film is slick thanks to Rishi Punjabi's cinematography and a good technical team. There are mass moments that attract wolf whistles, but the film is let down by a yawn-inducing plot and a contrived climax.
The prime conflict the director chooses - land grabbing of farmers' lands by the badass son of a CM, Vairam Dhanush (Aadhi Pinisetty) - is done to death courtesy several films in recent times made on the same theme and doesn't work again. The film has nothing new to narrate and fails to keeps you glued to the seats throughout. The hackneyed plot and lack of novelty make this film a regular watch, this film is something for the masses.
Sarrainodu is not up to the mark as Boyapati has completely failed to deliver the goods. Other than Allu Arjun's performance, the film offers nothing other than excessive action.
On the commercial meter, Boyapati and Allu Arjun go full guns blazing with Sarrainodu, and I doubt if any other director could've pulled this off. Perhaps, the title, which roughly translates to 'Right Guy', is apt for Boyapati, who wears his commercial tag like a medallion. However, this leaves us with one question which is, how long can he sustain making this kind of films?
Sarrainodu is indeed a Oora mass entertainer. The film has many elements which will enthrall the fans and mass general audience. Bunny's stunning transformation, Aadi's screen presence and amazing action sequences are huge assets. If you are OK with too much violence and manage to bear the last fifteen minutes, you can happily watch Sarrainodu, which will end up as a typical masala entertainer this summer.
Boyapati just remixed his Bhadra story once again with a bit of more hero characterization. The story and screenplay is totally disappointing. We get a feeling that Boyapati is only fit for Balakrishna and may not handle youth heroes of this generation. Its high time Tollywood gets rid of these routine stories. The entertainment which is sparingly available in the first half is totally missing in the second. The weak story did not even get the support of the music. Finally, Sarainodu is only for fans.