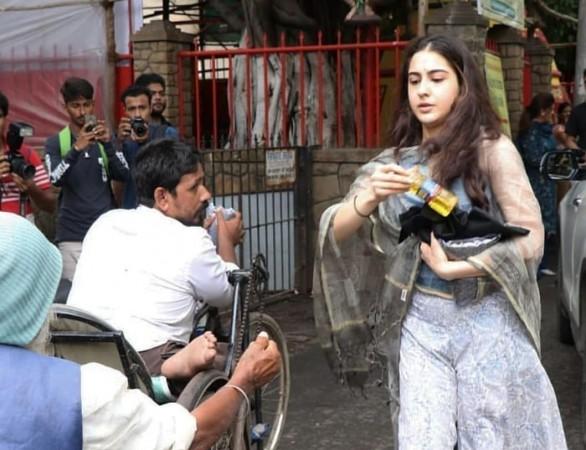 The so-called protectors of religion have been spewing venom on Sara Ali Khan, daughter of Saif Ali Khan, for paying a visit to a temple in Mumbai.
It so happened that Sara, along with her brother Ibrahim and mother Amrita Singh, recently went to Mukteshwar temple in Juhu and were also seen distributing alms to the poor who were lined outside.
Shutterbugs followed Sara during her visit to the temple and started clicking pictures and filming her on their camera. Sara seemed quite irked with their presence and requested them not to click her photographs while she was doing charity. However, the photographers paid no heed to her request and continued to click pictures.
In a video that has surfaced online, Sara can be seen distributing food among the poor following which she zooms off in her car.
However, instead of acknowledging her benevolence, a few small-minded bigots started trolling her for paying a visit to a temple, despite being a Muslim. They had even asked Sara to change her name and religion. They questioned her intentions by saying that she was doing charity only to hog some limelight.
The fanatics had also asked her if she has ever paid a visit to the holy cities of Mecca and Medina.
However, this is not the first time a Bollywood celebrity has fallen prey to religious sectarians.
A couple of months ago, Aamir Khan was trolled for sharing goofy moments with his grown-up daughter Ira Khan after they failed to understand the sacred relationship between a father and a daughter. They found the photo "disgusting and inappropriate", especially because it was posted during Ramadan.