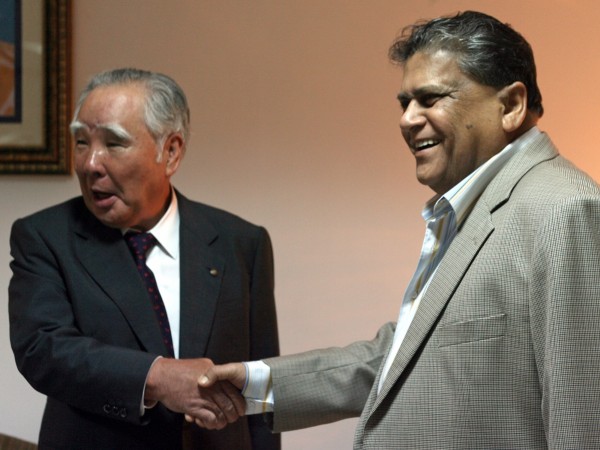 The Congress lost one of its veteran leaders Santosh Mohan Dev, a seven-time parliamentarian and a former Union minister, on Wednesday (August 2) after a prolonged ailment. Dev was 83 and is survived by his wife, also a former state legislator, and four daughters, one of whom is a current MP.
Dev, who was first elected to the parliament in 1980, is one of those rare politicians who represented two states – Assam (five times) and Tripura (twice). Till a point of time, the man was known to be the most prolific politician from the north-east. His death will certainly create a big void for the declining Congress to fill in.
Nothing could have prepared me for this moment. I lost him at 6.06am today. Thank you everyone for your prayers, your love for him. pic.twitter.com/1oAobNoCBa

— Sushmita Dev (@sushmitadevmp) August 2, 2017
In 2004, Dev had showed his stern principled stand to the UPA leadership
Dev, who was known as an able administrator, also had a strong principle. In 2004, when the Congress-led UPA had come to power for the first time, Dev did not agree to take charge as the Minister of State with independent charge of the Heavy Industries Ministry because there were two ministers of state in the said ministry. He took the responsibility only after getting an assurance from the then prime minister Manmohan Singh and UPA chairperson Sonia Gandhi.
Dev had later said that he was not okay with a same ministry having two ministers of state when he had already been given the independent charge. Rahstriya Janata Dal's Taslimuddin was also appointed as a minister of state in the heavy industries ministry.
A straight-forward Dev had remarked then that he was not a child who had barged into the ministry. He said Singh and Sonia had assured him that the mistake would be rectified and only then he agreed to take up the responsibility. A seasoned parliamentarian, Dev had said it was unprecedented that a ministry had a junior minister when an MoS already had the independent charge.
Santosh Mohan Dev (1934-2017)

Dev was born in Silchar, Assam, on April 1, 1934. His father was Satindra Mohan Dev, a freedom fighter who was close to Jawaharlal Nehru
He was educated both in Assam and UK
He was a qualified football referee and also a state-level tennis champion
He was first elected to the Lok Sabha in 1980
Dev was elected to the Lok Sabha from Tripura in 1989 and 1991
He had served in several ministries in his long journey as the parliamentarian: tourism, home, steel, heavy industries, etc.
He also carried out several other responsibilities as a parliamentarian
Dev had lost two parliamentary elections -- in 1998 and 2009
His daughter Sushmita won from Silchar constituency in 2014 LS election
A third-generation Congressman, Dev had seen a remarkable success as the heavy industries minister in the UPA I government. The man, who had deregulated the steel industry in the mid 1990s to help India realise its potential globally, did well in devolving decision-making power from the government to the management of the public sector units despite the presence of the Left Front as an ally in the government. Dev was also known for his social works, like setting up universities and infrastructure.
Dev had lost the last parliamentary election he had contested, in 2009. He finished third after the candidates of the BJP and the All India United Democratic Front—a Muslim based party set up by perfume baron Badruddin Ajmal in 2005. It is said that Dev had lost the election that year because of the polarisation of the Muslim votes because of the presence of Ajmal, who himself had contested against Dev and defeated him by under 4,000 votes.
The dynasty, nevertheless, came back to prominence with Sushmita Dev, the late leader's daughter, winning the 2014 Lok Sabha election by defeating the same BJP opponent Kabindra Purkayastha who had defeated her father five years back.