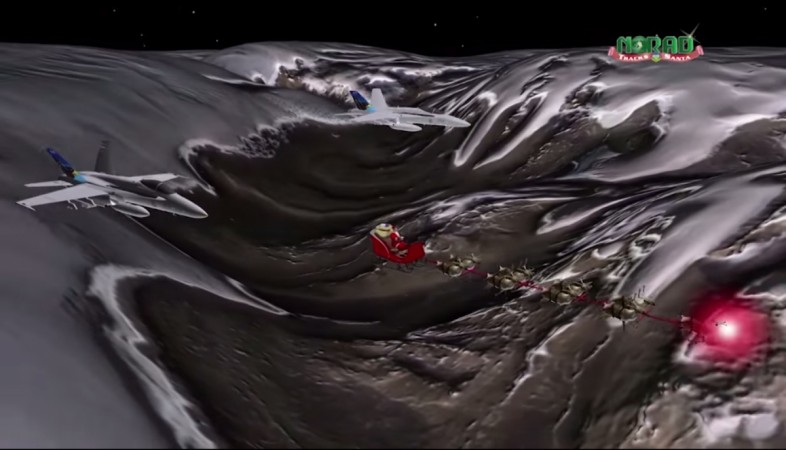 On December 24, Santa Claus along with Rudolph and eight other reindeer will begin his journey from the North Pole to distribute gifts to the millions of children across the world and bring a smile on their face on Christmas.
The journey of Santa will be tracked lived by the members of NORAD (North American Aerospace Defense Command) and Google's Santa Tracker. The two sites track the whereabouts of Santa every year.
Where to track Santa Live?
Google Maps will provide live information of Santa and to track the whereabouts of St. Nick live follow santatracker.google.com. Apart from Santa's live updates, Google will also provide information on the gifts delivered to millions of children.
One can also follow the official Facebook and Twitter pages of Google Maps to get the live updates.
NORAD Santa Tracker will also provide the live updates of Santa and the gifts he has delivered. You can follow noradsanta.org to get updates and follow Facebook, Twitter and Instagram pages of NORAD to get the live updates of the man travelling in a red suit with his reindeer.
What is NORAD Santa Tracker?
NORAD has been tracking Santa for the past 61 years and every year, more than 1,000 of volunteers track the journey of Santa, provide the exact location, answer more than 110,000 calls and 12,000 emails on Christmas Eve.
NORAD Santa Tracker came into existence in 1995 when a daily newspaper printed Continental Air Defense Command's (NORAD's predecessor) number instead of a local department store's number in the advertisement.
"Hey, Kiddies! Call me direct and be sure and dial the correct number," the store ad read. But since the number displayed on the ad was of NORAD's predecessor, they got all the call related to the ad. Colonel Harry Shoup, who was on duty that Christmas eve, started answering all the calls and he even got the name of Santa Colonel.
Since then, the tradition of tracking Santa and talking to children as Santa started.