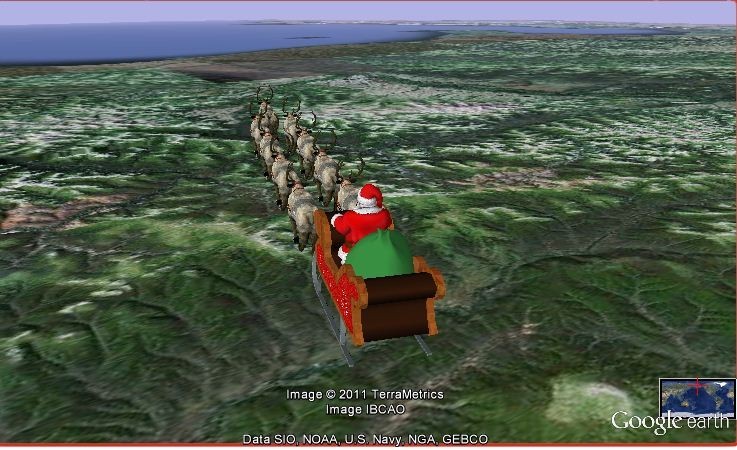 Santa Claus on Tuesday started his trip along with Rudolph and eight other reindeers to deliver millions of gifts to all the good children across the world during Christmas.
The members of NORAD (North American Aerospace Defense Command) track the location of Santa every Christmas eve for the children.
According to the Facebook page of NORAD, Santa started his trek from the North Pole at around 4.30 pm IST (6 am EST) and made his first stop in Novoye Chaplino, Russia. Then Santa made a quick stop in Bilibino, Russia, before heading towards Kiribat.
After visiting Kiribat, Island of Funafuti and Auckland, Santa has reached US station McMurdo, which is located 850 miles north of the South Pole, according to the Facebook page.
As per 7 am EST, Santa had delivered more than 350 million gifts across the places it has visited.
Google Maps and the NORAD have been providing live stream information of Santa's current location.
NORAD's track St. Nick started at around 6 am EST and children can track the location of Santa on the official NORAD Santa tracker website. One can also get the update about the man in red suit via phone, Facebook, Twitter and email.
One can follow Santa's whereabouts on Google Maps with the search engine's Santa Tracker.
"And they're off! The countdown to #tracksanta is over, with #rudolph leading the way," Google Maps tweeted.
Follow http://g.co/santatracker, Google Maps Twitter and Facebook page for the whereabouts of Santa and total number of gifts delivered. One can also leave a voicemail message to Santa.
NORAD has been tracking Santa Claus from the past 58 years and receives 70,000 calls and 12,000 e-mails from children. [Read the history here]
According to the Telegraph, last year volunteers received over 114,000 phone calls from around the world.