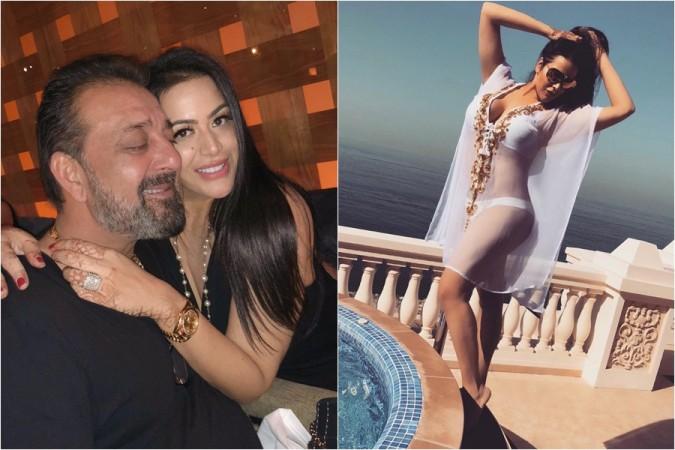 Sanjay Dutt's daughter Trishala Dutt, who is already an internet sensation, has once again taken the social media by storm, this time by posting a throwback post in a bikini on Instagram. And the internet can't stop drooling over her curves.
Trishala, who seems to be eagerly waiting for summer to arrive, can be seen flaunting her toned body in a white bikini which she teamed up with a sheer cape. And going by her picture caption, it looks like the diva is impatient to slip into her bathing suit once again to go for a swim to beat the heat.
The moment she uploaded the picture on Instagram, thousands of her followers couldn't stop gushing about her stunning summer look. Though Trishala has no plans of stepping into Bollywood as of now, her followers started praising her saying that she looks more beautiful than any other actresses in Bollywood.
One of her Instagram was completely left in awe with her beauty, wrote a short essay on her in the comment section. Describing her as 'The Water Pari', the user wrote, "Eversince my childhood I listened to fairy tales of a white swan (pari) coming out of the water blessing its viewer with love and luck, I never believed it, but today I may say I was wrong "The Water Pari" do exist and im looking at one waiting for her Love and Luck. The water in the pool may get evaporated by the extreme hotness of your looks. You need an ocean to swim."
Another user compared Trishala to American socialite Paris Hilton and said that she makes the latter look like a teletubbie, while another was impressed with how she has been maintaining her figure after weight loss.
Once fat now fab, Trishala had penned down her weight loss journey in her lifestyle and beauty blog last year, talking about how she struggled with her weight in the past. She followed the old school way of reducing her weight by following a proper diet and exercise.
Like any other girl who struggles with weight loss Trishala tried everything from fasting and detox to cutting calories and limiting carbohydrates to gain a healthy and lean body. But that didn't help her in the long run. She later decided to join a gym and got herself a trainer, and started eating healthy food in limited portions. She started losing pounds eventually.
She has now maintained a diet plan which she teams up with proper sleeping schedule, morning walks, exercising 5 days a week for at least 30 minutes, swimming and cycling.
Trishala is the elder of Sanjay Dutt from his first wife Richa Sharma and is a permanent resident of New York where she lives with her aunt Enna Sharma and grandparents. She is the CEO of Sanjay Dutt Productions Pvt. Ltd and is also the founder of DreamTresses Hair Extensions in New York.